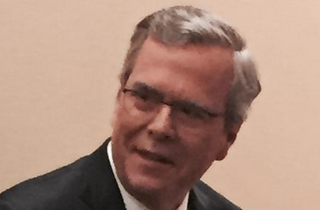 With the midnight deadline approaching for the renewal of major components to the NSA's surveillance program, Jeb Bush bashed GOP rival Rand Paul for his efforts to "force the [Patriot Act's] expiration". Bush called for the act's continuation at a GOP fundraiser on Saturday, and on Sunday, he gave an interview on CBS where he said the Senator was "wrong" and that "the law has kept us safe, plain and simple."
Bush, who is presumed to run for the 2016 presidency, said in a Face the Nation interview scheduled to air this morning that "what I admire most about my brother was he kept us safe." From there, Bush reiterated some of his talking points from the fundraiser, where he said there was no evidence that collection of domestic phone metadata violated civil liberties.
"The first duty of our national government," he said, "is to protect the homeland. And this has been an effective tool, along with many others, and the Patriot Act ought to be reauthorized, as is."
Bush then brought the discussion to national security issues, saying that the Patriot Act contained vital defense measures against ISIS spies and terrorists.
The USA Freedom Act passed the House of Representatives with bipartisan support but has not yet passed the Senate. The provisions set to expire at midnight include permitted privileges to law enforcement to pursue and investigate suspected criminals. Paul stated on Saturday that he intends to take measures to delay the final vote until the clock runs out.
[h/t The Guardian]
[Image via Screengrab]
Have a tip we should know? tips@mediaite.com