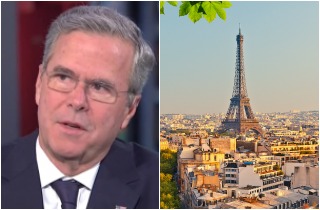 While hammering Sen. Marco Rubio (R-FL) at Wednesday night's Republican presidential debate for his Senate attendance record, former Florida Gov. Jeb Bush asked the first-term senator if the chamber operates on a "French work week."
That comment did not go over too well with the French.
"You should be showing up to work," Bush said at the debate hosted by CNBC. "I mean, literally, the Senate — what is it, like a French work week? You get, like, three days where you have to show up? You can campaign. Or just resign and let someone else take the job."
Rubio has been under fire for missing Senate votes and intelligence briefings while he campaigns for the Oval Office, and Bush sought to capitalize on that. Using the "French work week" analogy, Bush insinuated that the French work fewer hours per week, on average, than Americans. Gérard Araud, the French ambassador to the U.S., fired back on Twitter.
"The French work an average of 39.6 hours a week compared to 39.2 for the Germans," Araud wrote on Twitter. "In any country, electoral campaigns offer the opportunity for a lot of bombastic nonsense. Let's be indulgent."
In another tweet, Araud touted France's 16 weeks of paid pregnancy leave.
The French work an average of 39,6 hours a week compared to 39,2 for the Germans. https://t.co/22yUVpQbq7

— Gérard Araud (@GerardAraud) October 29, 2015
In any country, electoral campaigns offer the opportuniity for a lot of bombastic nonsense. Let's be indulgent. https://t.co/fRyjoYYYjn

— Gérard Araud (@GerardAraud) October 29, 2015
A French work week of 3 days? No but a pregnancy paid leave of 16 weeks yes! And proud of it.

— Gérard Araud (@GerardAraud) October 29, 2015
Watch the original exchange below, via CNBC:
[Image via screeengrab]
— —
>>Follow Andrew Desiderio (@desiderioDC) on Twitter
Have a tip we should know? tips@mediaite.com