Jennifer Rubin Attacks 'Dangerously Unrealistic' Libertarians: Snowden Exposed Their 'Delusion'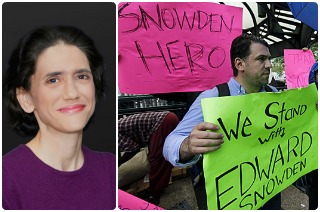 On Monday, Jennifer Rubin, a conservative columnist for The Washington Post, lambasted America's libertarians in a post noting how the controversies ignited by National Security Agency leaker Edward Snowden have exposed that movement's "delusion." She lamented that it took Snowden reportedly fleeing to a nation with a checkered record on human rights, by way of Moscow, to make the fact that Snowden is a "criminal" plainly apparent.

In the post, Rubin began by highlighting a quote by Sen. Rand Paul (R-KY) in which he said that posterity might ultimately view Snowden in a positive light so long has he avoids surrendering American secrets to unfriendly governments in Beijing and Moscow.
"This is daft, obviously," Rubin opined. "In revealing American anti-terrorism procedures he reduced our defenses and gave valuable information to those seeking to kill Americans. That is true whether he winds up in Iceland or China."
RELATED: Fox Panel Grills Kirsten Powers Over Snowden Claim: 'It's Crazy' To Say He Hasn't Damaged National Security
"The logic here is rather perverse, suggesting that his destination affects the legality and morality of his original crime," she continues.
A combination of unhinged progressives, conservatives trying to pummel the president and libertarians with little real understanding of either the Constitution or national security threatened to drive the country off the rails on anti-terror tactics. But, like the Boston bombings, incidents like this should demonstrate how dangerously unrealistic is this gang and the importance of robust defenses and surveillance capabilities.
"That it took a flight to Moscow by a traitor to make this clear is troubling, but we'll take what we can get," Rubin concludes.
Read the post via The Washington Post
Photo courtesy of Richard Drew / Associated Press
> >Follow Noah Rothman (@NoahCRothman) on Twitter
Have a tip we should know? tips@mediaite.com