Jerry Falwell Jr. Tweeted About Jeff Sessions and the Internet Responded by Ruining Him: 'You're an Unapologetic Hack'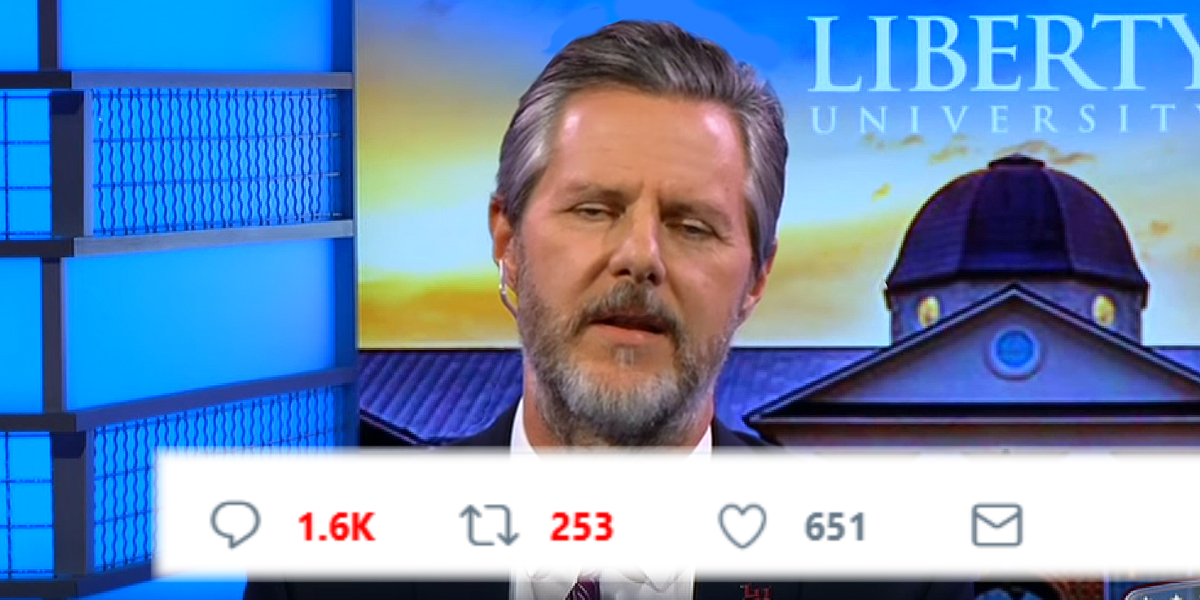 On Thursday morning, President of Liberty University Jerry Falwell Jr. weighed in on the character and fate of Attorney General Jeff Sessions, who was the subject of intense pressure from President Donald Trump on Wednesday.
Trump wants Sessions to get rid of his Robert Mueller problem, and although Trump's attorneys were quick to say he was just spleen-venting, it was obvious that Trump was applying genuine pressure; pressure echoed by surrogate Newt Gingrich later in the day.
And by Falwell Jr. this morning, who ripped Sessions as a "phony" who couldn't draw a crowd at his university the night before election day 2016.
Here is the tweet.
Strangely @jeffsessions appeared unannounced at @LibertyU the night before the 2016 election on a bus tour. I told students but could get almost none of them to come hear him. Could it be our students were the first to see he was a phony pretending to be pro- @realDonaldTrump ?

— Jerry Falwell (@JerryFalwellJr) August 2, 2018
Look. At. That. RATIO.

And now, the ruining (in no particular order):
Could be. Could be. But Occam's Razor suggests you're an unapologetic hack who would throw any principle or person under the bus for just one more chance to sniff the throne. https://t.co/VjsTp3FCWx

— Jonah Goldberg (@JonahNRO) August 2, 2018
During the primaries, Liberty University voted OVERWHELMINGLY for Marco Rubio. Multiple student groups attempted to speak out against Donald Trump. Falwell had them silenced. It's not unusual that they didnt want to see a Trump shill speak. https://t.co/VqC9Sfb09A

— Susan_Wright [Insufficiently Partisan] (@SweetieWalker) August 2, 2018
Did trump dictate this https://t.co/HG76l1Y2E6

— Elaine Godfrey (@elainejgodfrey) August 2, 2018
You're a fraud and a disgrace. https://t.co/VndipKmaVu

— Josh Jordan (@NumbersMuncher) August 2, 2018
The vilification of Jeff Sessions, a rock-solid anti-immigration conservative, from the Trump loyalists is truly remarkable to behold https://t.co/Ucn3X8Sj2z

— Anthony Zurcher (@awzurcher) August 2, 2018
The surrogate burial of the Attorney General continues. https://t.co/PT8Rn86270

— Ray Steele (@RaySteeleRTV6) August 2, 2018
We should listen to @JerryFalwellJr here, folks. If there's anyone who is an expert on people not being who they portray themselves to be… https://t.co/ekbNjEHEca

— Downloadable Snark (@SnarkActual) August 2, 2018
Sessions should have endorsed Cruz. But he got in bed with this crew and deserves every bit of crap that comes with it. https://t.co/peo8TKVnJ4

— Drew McCoy (@_Drew_McCoy_) August 2, 2018
"Jeff Sessions was a phony" may be his dumbest take. But the Trumpvangelical must do what is required. https://t.co/5ISexqwHoV

— David French (@DavidAFrench) August 2, 2018
Hush now, Renfield. It's time for you to eat your cockroach. https://t.co/ANtpS9lYXf

— John Podhoretz (@jpodhoretz) August 2, 2018
The outburst from Falwell Jr. could have been inspired by another Jr.:
Per @playbookplus: Falwell Jr. was spotted hanging out with Donald Trump Jr. last night -> https://t.co/EEKXe1qiao

— Kyle Cheney (@kyledcheney) August 2, 2018
Speaking of quids and quos…
Donald Trump got a good deal by being the dude who bailed out Liberty University, huh? https://t.co/dMUi1WAlHF

— Liz Mair (@LizMair) August 2, 2018
Interesting.
Also interesting that no one, anywhere, seemed to feel overly compelled to defend Sessions himself. That guy just can't catch a break from any side. Can't imagine why. ¯\_(ツ)_/¯
[Featured image via screengrab]
—
Follow Caleb Howe (@CalebHowe) on Twitter
Have a tip we should know? tips@mediaite.com