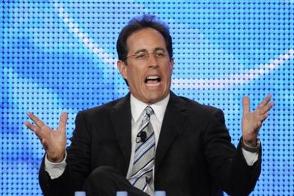 Jerry Seinfeld was in Los Angeles with many other NBC power players for the network's Television Critics Association event, promoting the upcoming show he is executive producing, The Marriage Ref.
Inevitably, the audience Q&A turned to Jay Leno and Conan O'Brien. And Seinfeld didn't hold back.
Seinfeld's first response was to praise NBC for moving Leno to 10pm. Seinfeld said he thinks "this was the right idea at the wrong time. I'm proud that NBC had the guts to try something."
Guts yes, but poor results. As for the way NBC has treated O'Brien, he was far from sympathetic.
What did the network do to Conan? I don't think anyone's preventing people from watching Conan….Once they give you the cameras it's on you. So, I can't blame NBC for having to move things around. Conan has a chance to destroy everybody. Go ahead. You're out there. Take it. I don't think anyone's done anything to Conan.
He did say he hoped Conan stays at NBC, and that Leno and Conan were "a great combo." But that ignores the fact that the combo ship had sailed in mid-2009, with O'Brien getting his long-discussed promotion to The Tonight Show desk. Going back to the "combo" would be considered a demotion now. Either way, there was a sense of Seinfeld playing defense for Leno. This is a storyline that will likely gain steam this week as the ball appears to be in O'Brien's court now. To be fair, it's a smaller, less exciting ball than 11:30pm, but he still has a decision to make. Celebrities will now be forced to make their allegiances known. Patton Oswalt is on Team Conan! Who's next?
Side note: while NBC surely loved all of Seinfeld's answers about Leno/Conan, they probably didn't enjoy this description of his upcoming show for them: "There is no way here today we are going to be able to explain to you exactly what the show is."
—–
» Follow Steve Krakauer on Twitter
Have a tip we should know? tips@mediaite.com