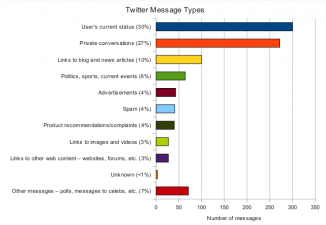 Though the media set has doubtlessly taken to Twitter, a new study found that only 16% of Twitter message types are sharing a type of news or analysis, with 10% of tweets being links to blogs or articles and 6% about "politics, sports or current events." The largest set of messages, though, is the "user's current status" at 30% followed closely by "personal conversations" at 27%, according to a new study by SemanticHacker.
Despite the service's potential as a forum for breaking news or an instant stream of reactions to the world at large, it appears as if most users are most comfortable in their personal bubble: "Mmm, these homemade cookies are to die for!" — something like that. Other findings of the study include:
We downloaded a sample of tweets over a two-week period using the Twitter streaming API. This resulted in a corpus of 8.9 million messages ("tweets") posted by 2.6 million unique users. About 2.7 million of these tweets, or 31%, were replies to a tweet posted by another user, while half a million (6%) were retweets. Almost 2 million (22%) of the messages contained a URL.
…
As you might expect, English turns out to be the most common language used on Twitter (61%). But surprisingly, the next most common language is Portuguese (11%), beating out both Japanese (6%) and Spanish (4%).
The blog Read Write Web noted, "According to their findings, it seems that Twitter really is full of people talking about themselves. A full 57% of the sample falls into tweets about what a person is doing, or private conversations between individuals."
Now, of course, this is not new information. A glimpse at the service — especially the usually playful trending topics — reveals that it is far from a hub of intellectualism (unless you know where to look — it can be!), but to see the content articulated as simple percentages and in chart form illustrates the data in an illuminating way.
Is it true, Twitter? Have reports of your importance been greatly exaggerated?
Have a tip we should know? tips@mediaite.com