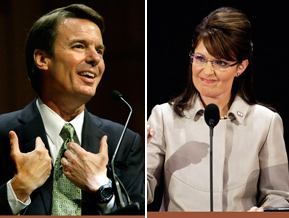 Who says no one is reading books anymore! Washington is still reeling today from revelations made in the uber-gossipy yet-to-be-released Game Change penned by Mark Halperin and John Heilemann. A copy of the book, which was technically under embargo until today, was discovered by the Atlantic's Marc Ambinder in a D.C. bookstore who shortly thereafter began posting the "juiciest bits" which shortly thereafter made international headlines.
Not to be outdone the NYT apparently shortly thereafter got their hands on a copy and whipped up an embargo breaking review that called it "a spicy smorgasbord of observations, revelations and allegations — some that are based on impressive legwork and access, some that simply crystallize rumors and whispers from the campaign trail." It's true! Thus far the headlines sound like D.C.'s version of the behind the high school gymnasium gossip mill. And who could resist that.
The juiciest, and thus far most damaging revelation has been Harry Reid's private remark during the campaign about how he liked Barack Obama because he was a "light-skinned African-American with no negro dialect, unless he wanted to have one." Oy. And that may be just the beginning.
There is reportedly details about President Clinton's (allegedly) more recent affairs and Hillary's private war room that was set up to deal with them. And then there's the Edwards, neither of whom come out looking good, to say the least. New York is running a train wreck of an excerpt the most surprising part of which may be hearing Elizabeth Edwards described by former staffers described as a""abusive, intrusive, paranoid, condescending, crazywoman." They make Sarah Palin look tame and one wonders if Elizabeth Edwards won't suffer the most of anyone involved from the publication of this book. Meanwhile, if Heileman and Halperin have anything good to say about anyone at this point it has yet to surface. All in all, it's a bit like the two got their hands on the private diaries of all the main players and published them. One half expects the chapters to be signed XOXO.
Michael Calderone calls the media blitz that has arisen of this weekend's leaks and excerpts a "freak show." Gossipy election history tomes, of course, are not new. The difference is that five years ago the audience for this sort of thing would have been limited to the beltway and a smallish group of political junkies. Not so now that we are a nation of politico's! There is a national audience for this sort of thing and one wonders if Harry Reid is going to survive the tumult (probably he's hoping for more shocking revelations regarding others to emerge today).
That said, some media folks are less thrilled than others with the results. Says Salon's Glenn Greenwald "Generally, the people who most love royal court gossip are the courtiers, courtesans and hangers-on – like Mark Halperin." Meanwhile, Newsweek's Howard Fineman tells Politico that Halperin "more or less created the world that we now live in—the 24-7 always-on, hyper-linked, web-based, D.C. political media world we live in now with 'The Note.'" Either way, assuming they book has nothing that damaging to say about the President (and if they did we probably would have heard it by now) one suspects Obama may relish a few days of having the press' attention diverted away from realities of 2010.
Have a tip we should know? tips@mediaite.com