Jewish Groups Criticize NY Times For Tracking Jewish Senators Against Iran Deal
Jewish groups have criticized The New York Times for publishing a list tracking whether or not Jewish Democrats were voting for or against the Iran deal, saying it played into anti-Semitic stereotypes.
The Times posted a list of "Lawmakers Against the Iran Nuclear Deal," which paid special attention to the Democrats who opposed the deal. But the Times listed the lawmakers by whether or not they were Jewish, and what percentage of their district was Jewish.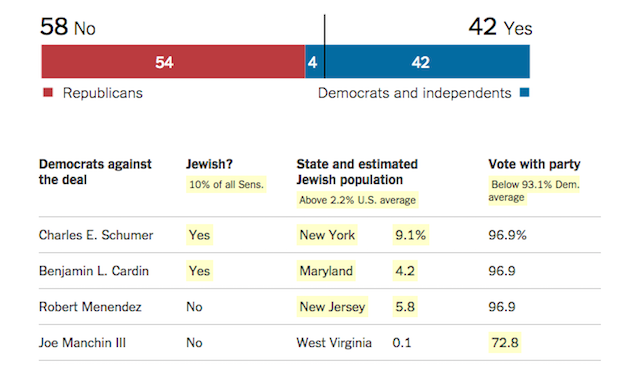 Right-wing outlets mocked the decision to publish what they quickly nicknamed the "Jew tracker." The Times was accused of playing into the anti-Semitic "dual loyalty" meme, which accuses Jewish-Americans of being more loyal to Israel than the United States. Many pointed out that since there were actually more Jewish Democrats supporting the Iran deal than opposing it, the whole exercise was a bit unfair.
Associate dean of the Simon Wiesenthal Center Abraham Cooper, told Jewish website Algemeiner that the list was "a grotesque insult to the intelligence of those voting on the deal," because it implied they only voted based on their identities rather than principled opposition. "That is wrong," he said. "The idea of reducing this whole issue to the ethnicity and religion of an American voter is to essentially reduce the entire question about the nuclear deal. It beclouds the issue."
National director of the Anti-Defamation League Jonathan Greenblatt agreed on Twitter.
offensive @NYTimes graphic http://t.co/4ORYgpXVCs reinforces stereotypes about American Jews and dual loyalty, distracts from real issues

— Jonathan Greenblatt (@JGreenblattADL) September 10, 2015
When The New York Times stealth-edited the piece and removed the "Jewish?" column without issuing a correction, Greenblatt said they should admit they made a mistake.
wld like to see admission of error MT @Yair_Rosenberg: NYT removed "Jew" column from its list of pols opposing #IranDeal w/o a correction

— Jonathan Greenblatt (@JGreenblattADL) September 10, 2015
But Times deputy editor Jonathan Weissman refused to apologize.
@Yair_Rosenberg @MtthwRose As I said, I take responsibility for graphic & don't apologize. We kept data, just put it into intro. I'm Jewish

— Jonathan Weisman (@jonathanweisman) September 10, 2015
[Image via screengrab]
——
>>Follow Alex Griswold (@HashtagGriswold) on Twitter
Have a tip we should know? [email protected]