Jim Lehrer Reportedly 'Seething' Over Criticisms Of Debate Questions, Lack Of Diversity Among Moderators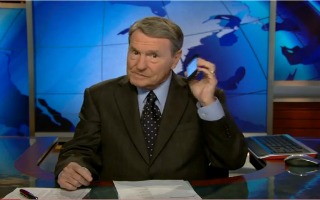 PBS host and debate moderator, Jim Lehrer, is 'seething' over criticisms already being directed at the Commission on Presidential Debates according to a report in the New York Times. From the topics to be discussed to the racial and demographic makeup of the moderators, many of the CPD's choices have come under intense scrutiny. Lehrer is, reportedly, having none of it.

The CPD and the debates are already coming under fire from critics who do not see enough diversity in the lineup of moderators or the topics up for discussion.
The moderators for the three presidential debates and one vice presidential debate are all white this cycle and primarily male. Two women – CNN's Candy Crowley and ABC News' Martha Raddatz, will moderate a presidential and vice presidential debate, respectively. Frank Fahrenkopf, Republican co-chair of the CPD, told Poynter on Tuesday that this condition was the fault of the networks for having so few high-profile minorities on staff.
"The television industry has not done a very good job with diversity with regard to really having women, or blacks or Hispanics in leading situations," Fahrenkopf told Poynter via telephone.
In addition, critics of the CPD are frustrated with the line of questioning set for the first debate which some say is too myopically focused on the economy. Concerned parents residing near the debate site in Denver, just months after the mass shooting in Centennial, Colorado, were disturbed that the CPD did not think gun violence merited discussion by the presidential candidates.
Lehrer spoke to the Times about the preemptive criticism and was described as seething with consternation.
But Mr. Lehrer, the former anchor of "PBS NewsHour," has been seething. He said he was outraged by suggestions that he was a "safe" and uninspired choice to moderate the first of four debates. And he is offended by reports that questioned whether this — his 12th presidential debate — might be one too many.

"It's a rough, rough world — I know that," Mr. Lehrer said recently, his voice rising in exasperation. "And those of us who have decided to play in that world have to play by those rules. I'm susceptible to the same smears as anyone else."
h/t Huffington Post
> >Follow Noah Rothman (@Noah_C_Rothman) on Twitter
Have a tip we should know? tips@mediaite.com