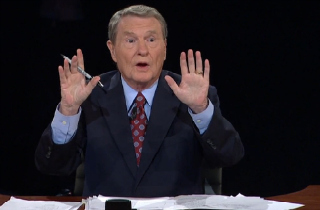 In an exclusive interview with POLITICO's Dylan Byers, Jim Lehrer responded to the criticism of his performance as moderator in Wednesday night's first presidential debate. The PBS vet told Byers he believes he sufficiently fulfilled his duty as moderator and that the widespread criticism does not bother him much.
"Based on what the goal was, I saw it as successful," said Lehrer. "I've always said this and finally I had a chance to demonstrate it: The moderator should be seen little and heard even less. It is up to the candidates to ask the follow-up questions and challenge one another."
Politicians and pundits from all over the map gave Lehrer low marks for his performance. Fox's Chris Wallace and MSNBC's Rachel Maddow both seemed to agree that he failed to "control" the debate. We here at Mediaite panned his performance and compared his behavior to Milton from Office Space meekly demanding the return of his red stapler.
But Lehrer told Byers that he felt his less confrontational approach was appropriate: "I don't consider that being passive, I consider it being effective," he said, adding that because the new debate format features each candidates getting two minutes to answer a question and eleven additional minutes for debate, the moderator is expected to play a less active role.
"The goal of the new format was to have the candidates talk directly to one another, in an extensive way, about things that matter," he told POLITICO. "One of the problems is that everybody is used to the old-fashioned debate system, which is very controlled, and where the moderator plays a more active role. But from the very beginning, everybody has been saying that what we really want is to have a real debate, not to have a moderator conducting a pseudo-interview."
The veteran journalist also indicated he is unconcerned with the harsh criticism: "I've heard some of the criticism, but it's not keeeping me awake at night," he said.
Read the full interview here at POLITICO.
— —
>> Follow Andrew Kirell (@AndrewKirell) on Twitter
Have a tip we should know? tips@mediaite.com