Joan Walsh's Criticism of Ivanka Attire Was Wrong, But Conservative Backlash is Laughably Hypocritical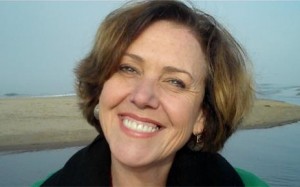 On Sunday, progressive journalist Joan Walsh made a disappointing, sexist comment about First Daughter Ivanka Trump on MSNBC, and predictably enough, conservatives are hypocritically parading it around for all the wrong reasons.
Of course, for some necessary context, Walsh, who took aim at Ivanka for her feminine and work-inappropriate attire, made the fair point that the Trump administration has a deserved reputation for enforcing the patriarchal values of the president, vice president, and their cohort of male conservative cabinet members and advisers.
Trump's cruel criticism of women for their appearances, and Mike Pence's refusal to meet privately with all women who aren't his wife, show their real perceptions of women: as objects meant to cater to patriarchal beauty standards, and as hyper sexualized temptresses. This disrespect and disregard for women is certainly alarming, and it seems Walsh intended to lambast how Ivanka's feminine state of dress exemplifies the assignment of gender roles within the Trump administration.
In either case, she was certainly right to criticize Ivanka's "feminism" — she's stood silent and idle while her father has moved to defund Planned Parenthood, and has stripped global organizations offering information about abortion of funding; she has yet to comment — and probably won't — about education secretary Betsy DeVos's refusal to commit to protecting sexual assault survivors' rights on campuses; she's supported a sexist maternity leave plan; and, of course, is being sued for exploiting and abusing factory workers. All while wearing the fashionable "feminist" label merely to improve her brand.
Still, reading the full exchange, it's easy to see where Walsh went wrong.
"I mean, I don't mean to sound sexist — it can be dangerous to comment on what women wear — but the fact that she sat in for her father in a dress that was so incredibly ornamental was such a contradiction in terms," Walsh said. "And I think that what we see is that in patriarchal, authoritarian societies, daughters have great value — they are property. And the message that she is sending about her own value, about her place in the White House, and about the place of women in this administration, I think, are really frightening."
She continued:
"That's not a dress that's made for work. That's not a dress that's made to go out in the world and make a difference. That is a dress that is designed to show off your girlieness, and, you know, God bless her, show it off, but don't then tell us that you're crusading for an equal place for women at the table because you're not."
The show's host, Thomas Roberts, brought her to question on this: "So you can't be a feminist and be girlie at the same time?" he asked.
"You can be a feminist and be girlie," Walsh responded, judicially. "We all have our girlie days, but I think showing up, taking your fathers's seat in a pink dress with big bows on the sleeves is really an interesting message."
As I've previously noted, Walsh's point about patriarchal values at the core of the Trump administration was perfectly fair. But she goes wrong to suggest that female activists can or can't be taken seriously on the basis of how they dress. Ironically, to dismiss and devalue a woman's ideas and impact as a feminist and activist is, in some ways, a defining point of patriarchal ideology.
It's true that Ivanka's ideas and impact as a "feminist" and "activist" are questionable — arguably even nonexistent. But that's because of her actions (or lack thereof) — not because of how she dresses. Society has long told women that women will be taken seriously or waved away, upheld as role models or slut-shamed and dismissed, based on what we choose to wear. Conservatives will likely soon be calling for Walsh to apologize to Ivanka, but in reality, she should be apologizing to women in general.
And speaking of the unfair standards we place on women when it comes to whether or not we should perceive them as role models, Walsh has a long history of promoting women's rights and progressive values in her work as a journalist. It would be an awful mistake to dismiss all of this hard work and dedication solely because of one comment that, while inadvertently sexist, has largely been taken out of context in conservative media.
Have a tip we should know? tips@mediaite.com