Joe Scarborough: 'I Have Stopped Trying To Find News On TV Networks Other Than Ours'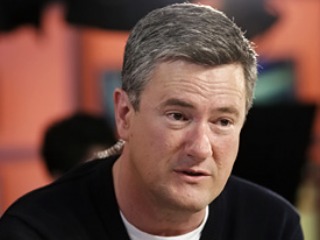 MSNBC Morning Joe host Joe Scarborough is not terribly impressed with the current state of television.
Or — as Scarborough recently shared during an Advertising Week panel with Arianna Huffington, HuffPost staff, and co-host Mika Brzezinski on moving beyond framing issues as simply "right vs. left" — he's not terribly impressed with the current state of television outside his own "forward-leaning" network home. Joe Pompeo reports for Capital NY:
When I'm off the air, I have stopped trying to find news on TV networks other than ours. I'll go to the BBC. Or if I'm really lucky, I'll find Al Jazeera America on a cable network. I'm dead serious.
Later on, he added that he was disappointed not only by the partisan ideology sprouted by networks, but by the type of stories these channels choose to cover:
And a lot of information that is not fueled by screaming and rabid ideology that is just stupid. I mean, seriously. We were running a press conference of the president, and CNN… I'll just say it, CNN, what's their slogan? "The Greatest Name in News" or whatever the hell it is, they're talking to the Balloon Boy's father's lawyer. Like, a month later!

All the days that I'm off and I look at the other channels and I look at the shit that America has to watch; these shows — I won't name them, but they would have Tim Russert and Andrea Mitchell and brilliant people like that for the first 45 minutes, from 7 to 7:45, [and then] are onto Britney Spears!
So what's his proposed solution? For the time-being, at least, Scarborough thinks those hungry for news would be better off seeking out The New York Times and The Wall Street Journal (two multi-platform news outlets that are themselves often framed as ideological rivals to one another)… or, he added, the Huffington Post.
And while it's true that you won't likely see any stories on amazing baby duckling rescues or celebrity underwear on Morning Joe, MSNBC isn't, in the grander scheme of things, any more insulated from criticism than of its counterparts. Lockup, anyone?
The idea that networks like CNN, Fox News, or MSNBC are meant to solely provide news is tested time and time again — after all, each of these features a wide range of shows and enough opinionated anchors that it is perhaps best to think of these as "infotainment" networks with a smattering of straight news programming than news networks with a touch of entertainment thrown in.
h/t Capital NY
Have a tip we should know? tips@mediaite.com