Joel McHale Wonders Why His Christie Jokes Landed Harder than His Clinton Jokes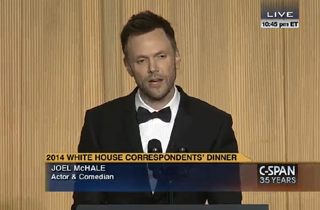 Speaking to Variety days after his appearance at the White House Correspondents' Dinner, Joel McHale contemplated two of his major accomplishments from the evening: first, that he somehow didn't offend people with his harsh Clinton jokes, and second, that he somehow managed to get away with saying the word "penis."
"I was very surprised by that," McHale told Variety, noting that he'd been told by past performers to expect I thought that of any jokes, the Bill Clinton jokes would be kind of the roughest, but no one is talking about them." A sample, in regards to the upcoming birth of the Clinton grandchild: "When the baby is born, do you give Bill Clinton a cigar?" (Yeah, that is pretty rough.) Instead, he noticed that his Chris Christie jokes landed harder, as well as one observation that a joke about Hillary Clinton's wage as President ("We can pay her 30% less") drew big laughs. (But what does that mean for the 2016 race, chattering class? What does that even mean?)
And enough about politicians, let's get to the most historical moment of the evening:
In what is believed to be a first for the WHCA, McHale did use the word "penis," when he mentioned that Twitter's Biz Stone was among the attendees. The punchline: "So if any of you congressmen want to cut out the middleman, just show him your penis."

"It is so funny to me that if you use the world 'penis,' people go crazy," McHale said on Monday. "That is an interesting, odd thing in our country, that as liberal as we are in some ways, then we are like teetotalers in other ways. It wasn't name calling when I said the word 'penis,' there wasn't any of that. It was like being in the 7th grade and people say, 'You said the word 'penis,' and it is funny to me."

But no one from the WHCA told him what he could and could not say, he said.
If that's true, what is next? Oh, here's a challenge. The next comedian to speak at the White House Press Correspondent's Dinner must somehow manage to call someone "PenisFace McButtTaint," just to see if they can get away with it.
Re-live McHale's remarks below:
[Variety]
[Image via screengrab]
—
>> Follow Tina Nguyen (@Tina_Nguyen) on Twitter
Have a tip we should know? tips@mediaite.com