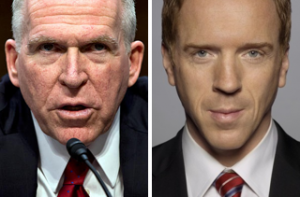 If you're inclined to believe FBI agent-turned-anti-Islam activist John Guandolo, then President Obama's nominee to be the next head of the CIA is basically Homeland's Sgt. Nicholas Brody.
Guandolo recently shared his conspiracy theory on the radio show of Tom Trento, president of the The United West, which, according to the group's website is "dedicated to defending and advancing Western Civilization against the kinetic and cultural onslaught of Shariah
Islam."
The ex-FBI agent told Trento that John Brennan has, during his tenure at the CIA, "brought known Hamas and Muslim Brotherhood leaders into the government and into advisory positions." But what's "most disturbing" to Guandolo is that Brennan "did convert to Islam when he served in an official capacity on behalf of the United States when he served in Saudi Arabia," which "was the culmination of a counterintelligence operation against him to recruit him" by "foreign intelligent service operatives."
Like the Army sergeant-turned-congressman character on Homeland, Brennan either did this knowingly, which makes him a "traitor" in Guandolo's assessment, or he did it unknowingly, which makes him "naive." Either way, Guandolo deemed him "unfit for service" as CIA director.
For his part, Trento noted that the left would respond to these accusations with cries of "show me the evidence!" But instead of asking his guest for said evidence he only asked if he was "comfortable" with his analysis. The only "proof" that the show did provide on air was a brief video of Brennan defending Islam as an often misunderstood "faith of peace and tolerance."
As Salon reports, Guandolo "left the FBI after working on the corruption case for former Louisiana Rep. William Jefferson, amid revelations that Guandolo had sexual relationships with agents and a government informant, and then bragged about it with a list of his conquests."
Will these shocking new allegations affect Brennan's chances? Sen. Lindsey Graham (R-SC) threatened to block Brennan's confirmation, along with that of Defense Secretary nominee Chuck Hagel, until he can get more information about the attack in Benghazi. Just wait until he hears about this.
Watch video below, via The United West:
—
>> Follow Matt Wilstein (@TheMattWilstein) on Twitter
Have a tip we should know? tips@mediaite.com