John Huddy, Brother of O'Reilly Accuser, Sounds Off on Fox News Firing: 'Disgusting What They're Doing'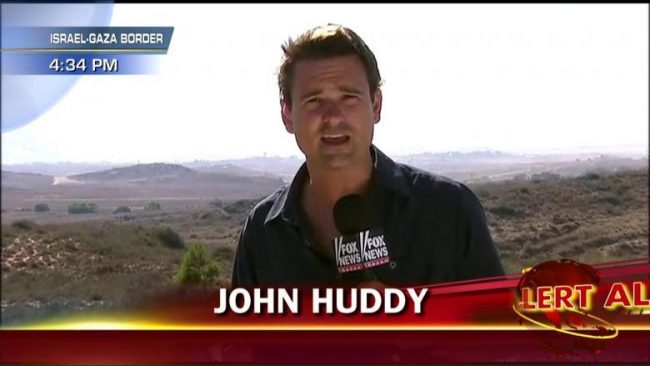 Yesterday, Fox News announced that it had fired Jerusalem-based correspondent John Huddy, stating at that time that the termination was due to a "physical altercation" that Huddy was involved in. The timing immediately raised eyebrows because it occurred on the same day Huddy's sister, Juliet Huddy, was interviewed by Megyn Kelly about her sexual harassment allegations against former Fox News star Bill O'Reilly. And that interview followed this past weekend's bombshell report about O'Reilly's $32 million sexual harassment case he settled a month before signing a new Fox News contract.
Well, John Huddy is not taking his firing laying down. In an interview with The Hollywood Reporter, Huddy disputed Fox News' account of a physical altercation, stating that there wasn't a fight but merely a situation where he "had words" with a freelance photographer earlier in the month. He further noted that he had "bad blood" with the photographer because he had "badmouthed" his sister in the past.
From THR:
"This is disgusting what they're doing," Huddy said of his termination from Fox News. "It's just awful. For what? Because I got in an argument with somebody?" Earlier, he said, "I'm not trying to play the victim or be a martyr. As journalists it's our job to expose injustice, and this is brutal."

A spokesperson for Fox News told THR that the network stands by the statement it made on Monday about Huddy's dismissal.
While Huddy wouldn't directly tie the timing of his termination to his sister's appearance with Kelly, he did say it was "more than just a coincidence." He also sounded off over the fact that his father had been fired after Roger Ailes resigned over sexual harassment accusations.
John's father, John Huddy, Sr. was Fox News consultant and confidant to the co-founder Ailes.
"They hurt my sister, they hurt my father, and now they're trying to hurt me," he noted.
[image via screengrab]
—
Follow Justin Baragona on Twitter: @justinbaragona
Have a tip we should know? tips@mediaite.com