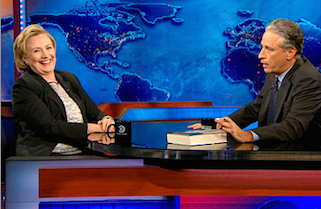 Ahead of the November 13 release date of his directorial debut Rosewater, Jon Stewart sat down for a long interview with New York magazine writer Chris Smith that is featured on the cover of this week's issue. The two discuss a myriad of issues, including Stewart's thoughts about the current presidential field for 2016.
Asked if the thought of a President Hillary Clinton "cheers him up" at all amid all the bad news in the world, Stewart was not able to muster much hope. "We need such a systemic overhaul that it's very hard for me to look at any individual and be hopeful. I just feel like we've forgotten to invest in our own country, in the infrastructure here. I'm not talking about isolationism," he said. "But I do think we have this incredible political mechanism that can begin to churn more efficiently and make those changes. God knows we can't figure out how to get out of our own fucking way now."
"Hillary strikes me as competent. She's certainly very bright," he added. "But she's a little hawkish for me."
Stewart went on to say that when Clinton appeared on his show this past summer and stressed that America needed to "tell our story" most effectively around the world, he did not quite get the point she was trying to make. "I didn't understand that," he said. "I think that, honestly, was somebody trying out a campaign theme in the way that I might try and work out a comedy bit with some friends. I think she came over and was like, 'Here's my campaign theme: retelling America's greatness to the world. America's got to tell its story.' Well, America's story is complex."
By contrast, he had somewhat kinder things to say about another potential 2016 candidate, Sen. Elizabeth Warren (D-MA). "I've been impressed by her," Stewart said. "You can't help but watch the evolution of somebody who comes on as an advocate and then becomes a politician and see the caution grow. It's like watching an uninhibited free spirit ­suddenly have to look both ways before crossing the street wearing a suit."
Later in the interview, Smith asked if Stewart feels his show has "changed anything" in the political world. "Nothing, as far as I can tell. As far as I can tell, politics has gotten worse," he said. "But this show was not designed to change our political system. It was designed as a mouthpiece for our point of view. It's a relatively selfish pursuit." He compared it to people who thought Bob Dylan "changed the world" in the 1960s. "He wrote some good tunes, and some people who did actually end up changing the world probably hummed them a lot, but that's not what changed the world."
But he did admit that The Daily Show may have helped make the sharp divide between left and right media worse. "We're part of the media landscape, and the media landscape has become more striated," Stewart said. "But there's a difference between four half-hours a week and 24 hours a day, seven days a week, hammering away, like Fox News. They've tapped into a real feeling of persecution in a horrible, amazing way."
Read the full interview, including Stewart's thoughts on Bill O'Reilly, John Oliver and Stephen Colbert at nymag.com.
Watch Stewart's July interview with Clinton below, in two parts, via Comedy Central:
[Photo via screengrab]
— —
>> Follow Matt Wilstein (@TheMattWilstein) on Twitter
Have a tip we should know? tips@mediaite.com