Rula Jebreal: Maher and Panel 'Hostile,' Push 'Dangerous' Ideas in Islam Debate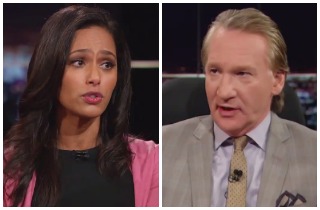 On his show last Friday, Bill Maher addressed the Berkeley petition to quash his commencement speech over his views on Islam. He also got into a heated back-and-forth with Muslim author and activist Rula Jebreal. Jebreal told Maher that the Berkeley students have some legitimate points and confronted him over certain beliefs of his about Islamic violence.
And in an interview with Salon out today, Jebreal follows up on that debate and what she considers Maher's "dangerous" views. She said she's concerned about how "ill-informed" are sounding off about Islam in increasingly "propagandistic" ways, and expressed that she thought Maher and the other panelists were acting "very hostile" to her arguments.
But Jebreal got specific about her problems with Maher's commentary:
Bill inspires people, no doubt – in a good way and a bad way. What if he were to inspire a real racist who would go out and commit a hate crime? Because after I went on the air, the hate and the threats were staggering. But I'm a public figure; I expected these things. Can you imagine an ordinary Muslim or Sikh or people that look like Muslims – what would happen to them after they hear Bill Maher? They'd probably think that he was justifying their actions…

Imagine if Bill Maher would have said that Judaism acts like a mafia. Imagine something like that in the '20s. Let's go back. It would be considered anti-Semitic – and it is anti-Semitic. But he gets away with it, because now the thing is to be anti-Muslim. And this is where I would love for him to reflect deeply. Because these things have an impact. … What he is doing is un-American – going after a whole group of people.
Jebreal said she'd love to have a more in-depth debate with Maher in the future on the subject.
You can watch Maher and Jebreal go at it here, via HBO:
[image via screengrab]
— —
Follow Josh Feldman on Twitter: @feldmaniac
Have a tip we should know? tips@mediaite.com
Josh Feldman - Senior Editor