Jon Stewart Thanked Greta Van Susteren For Being 'a Voice of Reason' During the 2000 Election Fiasco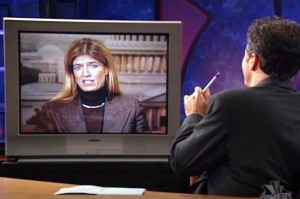 Today, longtime Fox News anchor Greta Van Susteren announced that she was abruptly leaving the network after fourteen years. In her place on tonight's On The Record will sit Brit Hume instead, as the veteran Van Susteren notes, "I hope to continue my career in broadcasting."
But back during the 2000 election — when a razor thin Presidential election hung in the balance of a statewide recount in Florida that took weeks — Van Susteren was the host of CNN's Burden Of Proof; she was also, as evidence by this Daily Show clip, one of the most overworked and valued members of the TV news landscape. Jon Stewart jokes in an episode from December 12, 2000 about the number of hours Van Susteren had been logging covering the latest details of the election. "The last time I saw something like that, they were raising money for muscular dystrophy."
"No, we're raising it for AOL and Time Warner instead," she shot back.
"Is this, for you, excitement? Or drudgery?" Stewart asks point blank.
Van Susteren, being broadcast through to the an actual Sony television sitting on top of Stewart's desk, smiles, and replies, "It's excitement. I love this. Although you know I complain about these eighteen hour days getting a little long, but you can't beat this story. This is a fabulous story. And the great thing about it is that is never ends, and nobody dies."
"And you and I keep making coin out of it," Stewart adds.
Watch the above clip, sixteen years later, from Comedy Central.
—
[image via screengrab]
Have a tip we should know? tips@mediaite.com