Jorge Ramos Shreds 'Loser' Peña Nieto for Caving to Trump, Giving Up Control Over Meeting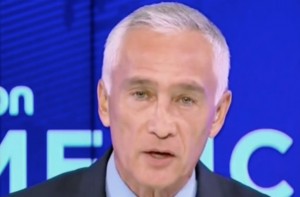 In an expansion to yesterday's tweetstorm, Jorge Ramos penned an op-ed that ripped into Donald Trump, and especially Mexican President Enrique Peña Nieto over their meeting yesterday in Mexico City.
The Fusion and Univision journalist started things off in his Washington Post piece by pointing out that the meeting was something both sides were trying to exploit in order to address their deep unpopularity with their respective constituents. Ramos outlined the weaknesses and controversies of both political figures, but he particularly blasted Peña Nieto for being "meek" and allowing to Trump to look presidential, assertive, and in control over the entire news cycle:
"He left Mexico City with his immigration plan still intact and without offering an apology to the Mexican people. Not only that, he took full control of the news conference, taking a few questions in English, while his host, Peña Nieto, waited patiently."
Ramos wrote that Peña Nieto squandered his chance to defend the people of Mexico by failing to use the joint press conference to challenge Trump on his rhetoric or his border wall. Ramos acknowledged that both sides came out with rather different takes on how discussions went, but that it proves Trump walked away the victor when Peña Nieto couldn't oppose him on the same level as Vicente Fox.
"Peña Nieto was not ready for Trump. His indirect public statements after the meeting were weak and insufficient. He needed a big, defining moment confronting Trump to change the narrative of his failing presidency. However, he couldn't pull it off. He is the loser. Again."
In terms of Trump's uncompromising speech on immigration, Ramos said that it was already too late for Trump to walk back on his controversial and inflammatory politics, but he promised that Hispanic voters won't be as silent or forgiving at the general election.
[Image via screengrab]
— —
>> Follow Ken Meyer (@KenMeyer91) on Twitter
Have a tip we should know? tips@mediaite.com