Juan Williams On NPR Firing: 'I Don't Even Get The Chance To Have A Conversation?'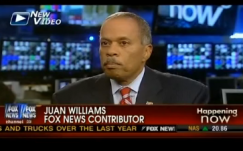 Juan Williams made his first statement on Fox News this morning about last night's surprise firing by NPR following remarks he made on the O'Reilly Factor Monday. Said Williams:
On Wednesday afternoon I got a message on my cell phone from Ellen Weiss [NPR's Senior Vice President for News] asking me to call. When I called back she said 'what did you say, what did you mean to say' and I said 'I said what I meant to say' which is that it's an honest experience in an airport when I see people who are in Muslim garb who identify themselves first and foremost as Muslims, I do a double take, I have a moment of anxiety or fear given what happened on 9/11. That's just the reality.

And she went on to say that crosses the line. And I said, what line is that. And she went on to somehow suggest that I had made a bigoted statement, and I said, that's not a bigoted statement, in fact, in the course of this conversation with Bill O'Reilly I said we have, as Americans, a obligation to protect the Constitutional rights of everyone in the country and to make sure we don't have any outbreak of bigotry, but that there's a reality. You cannot ignore what happened on 9/11 and you cannot ignore the connection to Islamic radicalism, and you can't ignore the fact what has recently been said in court with regard to 'this is the first drop of blood in a Muslim war against America.'

And she said, well this has been decided up the channel, and I said, you mean I don't even get the chance to come in and we do this eyeball to eyeball, person to person, have a conversation? I've been there for more than 10 years. We don't have that chance to have a conversation about this? And she said, there's nothing you can say that will change my mind. This has been decided above me and we're terminating your contract.
Watch below. The remark "there's nothing you can say that will change my mind" rather succinctly sum up everything that's wrong with the the national political dialogue at the moment.
Have a tip we should know? tips@mediaite.com