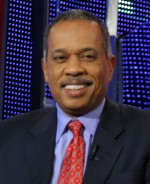 Juan Williams' controversial firing from NPR continues to pay off for him. First, he got the lucrative Fox News contract. And now, he's got a two-book deal with Crown Publishers – the first of which will "focus on free speech and the growing difficulty in America of speaking out on sensitive topics."
As one would expect from that description, Williams will reflect on his own experiences for the book, according to the New York Times' Dave Itzkoff:
In the book Mr. Williams "will argue that the American public benefits from a vigorous and full-throated debate on hot button issues of political and cultural import" and "chronicle his own first-hand experience of the consequences of crossing the line in public expression," the [Crown] statement said.
Terms of the deal haven't been released, but one can bet Williams brought in a tidy sum for this deal, after becoming a household name when the controversy over his firing from NPR erupted. While the first book will probably stoke the most interest, the second book – which will, according to Crown's statement, "examine the changing face of America since the time of the Founding Fathers, as seen through the eyes of some of the noteworthy individuals who have helped to expand on and transform our ideas of what it means to be an American" – might be more interesting, if only because the first book's topic got beaten into the ground during the original Williams-NPR outcry.
Either way, this certainly sounds like a good deal for Williams – one that's possible in large part due to his firing. We have no doubt he was genuinely hurt and angry about how his NPR tenure ended, but few other developments could have advanced his career so dramatically, and so quickly. Not to mention, his role on Fox News should come in quite handy when promoting these forthcoming books. Synergy!
[h/t HuffPo]
Photo via
Have a tip we should know? tips@mediaite.com