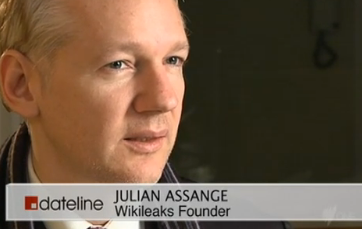 WikiLeaks founder Julian Assange says the uprisings in Tunisia and Egypt got a boost from WikiLeaks. In an interview with the Australian program Dateline, Assange says "material that we published through a Lebanese newspaper was significantly influential to what happened in Tunisia," and Tunisia led directly to Egypt. "Then there's no doubt that Tunisia was THE example for Egypt, and Yemen and Jordan and all the protests that have happened there."

Assange says a cable suggesting the U.S. would back the Tunisian military may have given the armed forces the encouragement they needed to break with the ruling "political elite." As for the continuing battle over rape allegations in Sweden, Assange tells Dateline's Mark Davis he cut his hair and changed his look in the wake of the charges:
When you are in this business, people try to take any point they can to malign you and stop the power of your publication. That is the same reason why politicians dress so conservatively, when they are under constant attack. It is something that I have to do in order to keep the focus on our material and keep the focus off me.
Assange says he's surprised at the intensity of the focus on himself–particularly a flood of unflattering portrayals like the book that describes Assange as a "disco king" who engages in power struggles with cats.
Certainly, the level of scrutiny, the level of attacks on my person is like nothing else I might have experienced – possibly with some exceptions, like nothing else, anyone else in Australia has experienced.
Have a tip we should know? tips@mediaite.com