HuffPost Won't Pay Its Writers Because Facebook Doesn't Pay Its Users For Content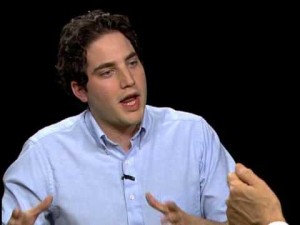 The Huffington Post is known for, among other things, not paying its contributors. Following news that Aol had purchased HuffPo and taken on its founder, Arianna Huffington, as the head of editorial across several of its blogs, some wondered whether this meant either that HuffPo / Aol would now begin compensating its writers. The answer, for now at least, seems to be simple: Hell no.
The Huffington Post's executive editor, Nico Pitney (pictured), explained the site's reasoning in an email to a private, liberal listserv. Here, Pitney is responding to an earlier comment on the topic of compensation by Nixonland author Rick Perlstein:
rick, i wonder whether twitter, facebook, and dailykos will ever pay me for the content i've provided them, and which they've happily monetized. probably not, but i don't mind. i understood what i was getting out of writing for them when i did it. which is I think the same case for our bloggers, who get their own benefits from posting on our site, ask to do it, and often yell at me (usually justifiably) when it takes too long for their post to go live. back in college i spent months of my life trying to get my own small blogspot blogs off the ground. it was an incredibly frustrating exercise. huffpost didnt exist at the time, but if it had, i would have jumped at the chance to be published there.
Forbes' Mixed Media blogger Jeff Bercovici – who formerly wrote for Aol – weighed in on the discussion in his own column, pointing out that, of course, there's a difference between writing on a social networking site and writing for a major media company.
Of course, this particular model had proven profitable for the Huffington Post and it hasn't suffered from a dearth of contributors, even if they happen to complain about lack of payment after the fact. Perhaps the chance to have a platform on a well-known site is incentive enough to override not being compensated monetarily, especially as the site seeks to become more "local" through its deal with Aol.
Time will tell, we suppose.
h/t Forbes
Have a tip we should know? [email protected]