Kathleen Sebelius: Issa's Hearings 'Designed to Stifle, Intimidate' Obamacare Navigators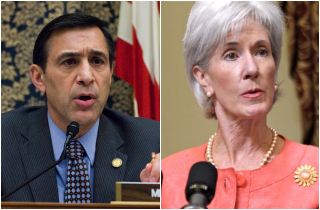 The battle between House Oversight Committee Chairman Darrell Issa (R-CA) and Health and Human Services Secretary Kathleen Sebelius over the disastrous Affordable Care Act rollout traveled to the Lone Star State on Monday, as the two published competing op-eds in the Dallas Morning News ahead of a hearing on the navigators' role in the law's implementation.
In her op-ed, Sebelius touted the navigators' importance in meeting face-to-face with the uninsured, where they can explain different policies and assist with the subsidy options. Navigators must pass through a rigorous application process, Sebelius maintained, and undergo twenty hours of training. Still:
There are some who will seemingly stop at nothing to deter Texans — and those who assist them — from obtaining coverage or even learning about their new options under the Affordable Care Act.

What opponents of the new law could not do legislatively, at the ballot box, or even by shutting down the federal government, they're now trying to do through other means. Case in point is Monday's congressional hearing in Dallas, designed to stifle, intimidate and impugn the reputation of people who have been working hard to help their fellow Texans get covered.
In a separate piece, Issa and Representative Pete Sessions (R-TX) argued the navigator program did not sufficiently train staff, and had inadequate safeguards against hiring convicted felons, who could have access to individuals' private information. The lawmakers also cited two cases in which navigators encouraged insurance applicants to misrepresent their information to qualify for government subsidies or lower premiums.
Sessions and Issa will hold a hearing in Dallas on the navigator programs on Monday afternoon. Texas, which did not expand its Medicaid program or initiate a state-based insurance exchange under the ACA, has the highest uninsured rate in the country.
[h/t Washington Post]
[Image via CSNNews/Penny Starr]
——
>> Follow Evan McMurry (@evanmcmurry) on Twitter
Have a tip we should know? tips@mediaite.com