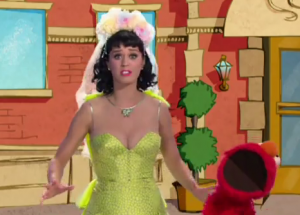 In the biggest preschool television scandal since Teletubbies was forced to implement a "Don't Ask Don't Tell" policy, a video of singer Katy Perry cavorting with Elmo in a low cut top has been banned from Sesame Street. The musical segment was supposed to air in an upcoming episode but will now be shelved after it was posted on YouTube and a number of parents complained. The parents felt that Perry was showing off way too much cleavage and were worried that their children would all grow up to be incredibly jealous of Russell Brand.
In the clip, Perry sang a version of her hit single "Hot N Cold" while chasing Elmo through an animated city. The new lyrics changed the song from being about the pain of dealing with an ambivalent lover to the pain of having an androgynous puppet cancel a play date (ironically, that's also the premise of Lady Gaga's upcoming single "Man of Felt, Felt Me Up"). While TMZ is reporting that Perry is actually wearing a "flesh-colored mesh that goes all the way to her neck," some parents complained that that just wasn't enough to cover up her dirty pillows.
Sesame Street heard their cry, releasing this statement to UsMagazine.com:
"Sesame Street has a long history of working with celebrities across all genres, including athletes, actors, musicians and artists. Sesame Street has always been written on two levels, for the child and adult. We use parodies and celebrity segments to interest adults in the show because we know that a child learns best when co-viewing with a parent or care-giver. We also value our viewer's opinions and particularly those of parents. In light of the feedback we've received on the Katy Perry music video which was released on You Tube only, we have decided we will not air the segment on the television broadcast of Sesame Street, which is aimed at preschoolers. Katy Perry fans will still be able to view the video on You Tube."
So, has America protected our children once again or are we just one step closer to forcing Zoe Monster to wear a burka? You can watch the video below, but make sure there are no children around. This Sesame Street clip is too hot for TV!
Have a tip we should know? tips@mediaite.com