Keep Your Beer Cool With This Joe Biden-Themed Koozie From The Obama 2012 Store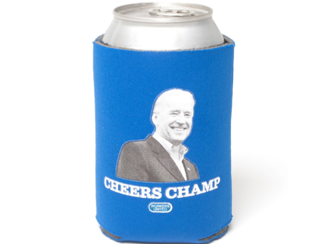 Vice President Joe Biden: foreign policy maven, train enthusiast, expert beer cooler? The Obama 2012 campaign seems to think so, as it is now featuring in its campaign store a beer koozie emblazoned with a smiling Biden, simply saying "Cheers Champ." It's not the only lighthearted campaign merchandise on the website– Obama supporters also have the option to purchase, say, a coffee mug with the President's long-form birth certificate on it– but it may just be the funniest.
While the item isn't marketed as a beer cooler– "Need to keep your soda cold? The Vice President's got you covered. Literally," boasts the product description– it is clearly a party item, and as it is "made in the USA," he probably helping spur job creation somewhere. The idea seems to have sprung out of the framed "beer summit" of 2009 between President Obama, Harvard professor Henry Louis Gates, Sgt. James Crowley of the Cambridge Police Department, and the Vice President. Explains ABC News:
Campaign staffers across the country have been on a messaging blitz about the new swag. @OFA_NC, the handle for Obama's North Carolina operation, boasted that buyers could even have their "very own beverage summit," referring to the so-called White House Beer Summit of July 2009.

President Obama and Biden then hosted Cambridge Police Sgt. James Crowley and Harvard University professor Henry Louis Gates Jr. for beer and conversation after a high-profile spat about racial profiling.

Obama drank a Bud Light, while Biden opted for a non-alcoholic Buckler. Both drank from glass mugs, not cans.
One person who would be proud? The Onion's Vice President Joe Biden– the guy who keeps dragging old armchairs off the street into the White House appears to constantly be attempting to get people to "chill out" and enjoy their lives more.
Have a tip we should know? tips@mediaite.com