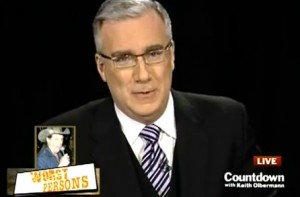 The New York Times' Brian Stelter has been at the tip of the spear in covering the mysterious rift between Countdown host Keith Olbermann and Current TV. Yesterday, the website WhatsTrending.com reported "Keith Olbermann And Brian Stelter Duke It Out On Twitter," but what really happened was Olbermann pushed back at Stelter's latest reporting, and Stelter ignored him. Among the charges leveled by Olbermann is that Stelter "threatened" him.
When I saw the "Duke It Out" headline, I was surprised (and disappointed I'd missed it), because while Olbermann is famous for his Twitter-warring ways, Stelter is about as genial a guy as there is. As it turns out, on Thursday, Brian Stelter promoted his reporting on Twitter (and actually avoided conflict with Olbermann by not using his Twitter handle), while Keith Olbermann pushed back on it. Here's the timeline:
brianstelter: Keith Olbermann is famous for estranging himself from his bosses. At Current, he's done it in record time: nyti.ms/z3Zywj 5 Jan
KeithOlbermann : 4) Best laugh? Lead of @BrianStelter NYT story. 2 of the 3 networks he claims I "estranged" myself from later asked me to rejoin them 5 Jan

brianstelter A cold war between Keith Olbermann and his channel, Current TV — my Bizday story in today's NYT: nyti.ms/z3Zywj 5 Jan

KeithOlbermann: See previous: not really, no RT @nytjim Is Current TV too low-rent for @KeithOlbermann? Good piece by @brianstelter.nytimes.com/2012/01/05/bus… 5 Jan

KeithOlbermann Not when he tries to threaten me into giving one RT @grahamdudegive writer interview next time, probably be a better story@BrianStelter 5 Jan

KeithOlbermann @msbellows And the reason you assume the article is not poorly-reported pap? 5 Jan

KeithOlbermann I'm sorry, but in denying he tried to threaten me into commenting on the record, @BrianStelter of NY Times is flat out lying. 5 Jan

brianstelter New Twitter followers: here's my story about Keith Olbermann's cold war with Current TV. It is in today's Times: nyti.ms/xcBtMA 5 Jan

KeithOlbermann Advised there were factual errors in his story @BrianStelter said he'd correct them only if I went on record w/him, which I legally can't 5 Jan

KeithOlbermann Thus @BrianStelter chose to use erroneous information he attributes to an anonymous source, rather than facts. It is shameful. 5 Jan

KeithOlbermann .@RBS07 It was explained to him. @BrianStelter demanded it be explained on the record while not demanding that of the source of falsehood 5 Jan

brianstelter Here's my latest on Keith Olbermann vs. Current, as of 3pm, about the lawyerly handling of it all: nyti.ms/zHu7o2 5 Jan

brianstelter @GregMitch i've yet to convince anyone who works with olbermann to go on the record. they seem to fear for their jobs. i continue to try. 5 Jan

KeithOlbermann Actually they seem to believe in loyalty, to their company & maybe even to me RT @brianstelter i've yet to convince… tl.gd/f5n1vt 5 Jan

KeithOlbermann More over (sic), @BrianStelter, employees in nearly all companies do not have an unfettered right to speak to the media. I don't, you don't. 5 Jan
The "threat" that Olbermann refers to appears to be his claim that he advised Stelter that there were "factual errors" in his story, but that Stelter "said he'd correct them only if I went on record w/him," and accused Stelter of a double-standard, saying he "demanded it be explained on the record, while not demanding that of the source of falsehood."
Without knowing the exact details, but based solely on what Olbermann is saying, Stelter's actions don't constitute a threat, but rather, standard journalistic procedure. If Olbermann is the sole source of the "factual" correction, he has to be "on the record" in some fashion in order for Stelter to print it. Additionally, the fact that Stelter "attributed" something to an anonymous source means that source was on the record, just not named. Olbermann doesn't say if Stelter offered him a background attribution; I asked him, and he hasn't responded.
It's a serious accusation, but as Olbermann lays it out, Stelter did nothing wrong. I've had sources push bad information to me off-the-record (it's called "guidance") to try to get me to kill or alter a story, but if off-the-record information can't be independently verified, it may as well not exist.
Have a tip we should know? tips@mediaite.com