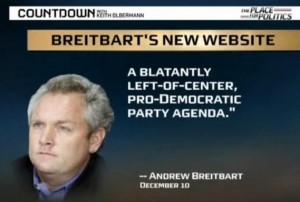 On last night's Countdown, host Keith Olbermann included a quote by Andrew Breitbart that sounded rather familiar to me. I waited a few seconds to see if there would be any attribution, but the onscreen graphic simply said "Andrew Breitbart – Dec. 10."
Maybe I was mistaken, maybe the source of Breitbart's quote was something directly overheard by a Countdown staffer, or a Breitbart utterance in some public forum. Maybe Countdown didn't lift the quote from an exclusive interview and fail to credit the source, in the very same segment in which they accused the Drudge Report of thievery.
In running down the conservative echo chamber, Olbermann cited many of the players involved, and made this claim: "…or get Matt Drudge to steal somebody else's column in which somebody else will insist conservatives have no voice in the media."
Here's the video. The quote in question is at the 7:19 mark, but watch the whole thing. It's pretty good.
The full quote is from a December 10 Mediaite article by Colby Hall. It was called "Exclusive Interview: Andrew Breitbart Announces Launch of New 'Big' Sites," and also featured a little red "Exclusive" banner, in case you missed the headline.
In a phone interview with Mediaite, Breitbart says that his new sites will continue to "fight the mainstream media – New York Times, Washington Post, LA Times, CBS, ABC, NBC, MSNBC, and CNN — who have repeatedly, and under the guise of objectivity and political neutrality, promoted a blatantly left-of-center, pro-Democratic party agenda."
Breitbart didn't make that comment into the void of space, he made it in response to a Mediaite editor who had gone to the trouble of securing the interview and preparing questions for it. He deserved to be credited. How would Keith like it if we all got to tune in to "Countdown with Blank Spaces and a Dateline?"
The segment was about reactions, by Bill O'Reilly and Glenn Beck, to a line spoken by a fictional character on NBC's Law and Order: SVU. Olbermann doesn't make the heavy lift that the pair are "inciting violence," a charge that carries a high burden of proof.  I'm sure we've all said or done things that would look equally bad posted on the web page of some killer.
He does, however, provide support for that SVU character's assertion that they are "spreading ignorance and hate," and eviscerates the notion of a gaggle of people who claim no objectivity accusing mainstream journalists of bias. Keith would have been better served sticking to those points.
Have a tip we should know? [email protected]