Keith Olbermann On Current TV: 'Those People Have No Idea What They're Doing'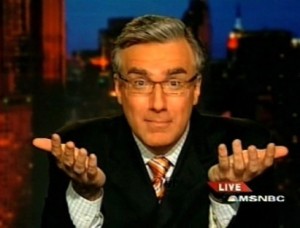 In her latest New York Post column, media scribe Cindy Adams offers a list of notable quotes from Keith Olbermann, the recently-ousted CurrentTV host and sparkling "$10 million chandelier."
RELATED: Fragile? Keith Olbermann Tells David Letterman He's A $10 Million Chandelier – Updated Full Segment
Adams writes that she was on Olbermann's "other phone" as he was being "pre-interviewed" for his interview with David Letterman earlier this week — the very interview in which he'd referred to himself as a pricey crystal light fixture.
She shares some of what he had to say:
Twenty-five friends, with me for years, came with me to Current. They needed job security. I love every one, and with so much wrong with the operation I worried we'd be canceled. I did all I could to make it work. I'm hurt I let them down…

Look, it can never be said I complained publicly. I never took the problems outside the workplace. I knew it was failing, but I was going down with the ship…

I didn't vet the operation carefully before signing on. I trusted things because Al Gore's behind the operation, and I retain the belief he's well-meaning…

But they're running out of money. Behind in their bills. For location interviews you must pay satellite time, studio time, technical types. August I heard those vendors hadn't been paid. One exec quit because this was ruining her reputation.
RELATED: NY Post Internal Emails Detail Olbermann's 'Diva' Car Service Complaints
Olbermann also addressed reports that he'd complained about the car service used by the network, telling Adams that, "Cars weren't being paid. We didn't fire them. They fired us!"
He was also optimistic about the future: "I'm not in bad shape for now. They're saying things that aren't true, and it'll shake out in a lawsuit. I only know I'm in the right."
h/t NY Post
Have a tip we should know? tips@mediaite.com