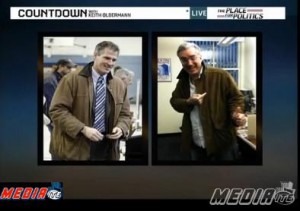 After a month-long absence due to his father's illness and eventual passing, Countdown's Keith Olbermann returned to full-time hosting duty tonight. He marked the occasion by retiring the very short-lived "Hall of Shame" segment, and resurrected "Worst Persons."
The first honoree? Senator Scott Brown (R-MA), who earned a Bronze for drawing Keith (via a spokesman) into his feud with Rachel Maddow. Is Mediaite responsible for this? Maybe.

First of all, let me be among the first to welcome Keith back. While the staff of the conservative Daily Caller was probably being sarcastic, and even though Olbermann did make Mediaite one of only 3 members to ever enter his "Hall of Shame," he was sincerely, and sorely, missed. Countdown is a much more entertaining show with Keith at the desk, period. That's no knock on fill-in Lawrence O'Donnell, it's just a recognition of the degree to which Olbermann owns his format.
In tonight's "Worst Persons," the Bronze went to Senator Scott Brown (D-MA), who has been raising money by opposing the phantom candidacy of Olbermann's MSNBC colleague, Rachel Maddow. Brown's spokesman dragged a gleeful Olbermann into the fray:
Funny, that suggestion sounded kinda familiar. We talked to the Massachusetts Democratic Party last week to see if Maddow was the target of their recruiting effort:
Executive Director Stacy Monahan told me that Walsh has not revealed the intended recipient's identity, but that "when he's up to 1,000 (Twitter) followers, he (will) reveal who it was that he was trying to reach."

I pointed out that if Rachel doesn't accept, Brown could probably raise at least as much money if the Massachusetts Dems went after Keith Olbermann. While he currently resides in New York, surely there's enough time to establish residency by 2012.

That's a good point…Maybe that's who John intended to tweet, you never know," Monahan replied.
Walsh is currently only at 718 followers, so we still don't know for sure, but it sounds like Scott Brown's office is taking us up on our suggestion.
Meanwhile, the Boston Herald also weighed in on Maddow-gate, taking a rather hostile view of the cable darling: (emphasis mine)
After a week of serious grownup news, what we all really needed was a little comic relief and thank goodness for the self-absorbed rantings of MSNBC's Rachel Maddow for supplying it.

In an apparent attempt to reverse slumping ratings, Maddow's bosses even took out an ad so she could vent uncensored about how Sen. Scott Brown "smeared" her by indicating in a fund-raising letter that Democrats were trying to recruit her.

Now we're a little unclear how a run for Senate – however improbable – constitutes a "smear." But that aside Maddow's petulance seems, well, just a little contrived.
This is stunningly poor analysis, especially from the editorial staff of a print newspaper. Aren't they supposed to be all about journosomething? Fact-a-ma-jigs? As Maddow, and now Olbermann, point out, Brown's fundraising letter is completely factless, some might even say contrived.
You would also think that a newspaper would share Maddow's outrage at Brown's refusal to now correct the record.
As for being "a little unclear," Brown is raising money by demonizing one of his own constituents, using deception.
Finally, the Herald calls Maddow "petulant," but it's the Herald who mentions that Maddow took out an ad to debunk Brown, but fails to mention that it ran in a competing paper, The Boston Globe. Is all of this really just sour grapes from a little lost ad revenue?  Nah, that would be petulant.
Have a tip we should know? tips@mediaite.com