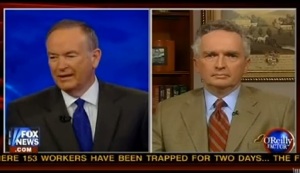 President Obama surprised the White House Press Corps with an unexpected weekend trip to Afghanistan. Not surprisingly, the sudden focus on foreign policy and rallying of troops was, largely portrayed in a positive light. But that wasn't the case last night on Fox News The O'Reilly Factor, where Fox News Analyst Ralph Peters told host Bill O'Reilly that the night time trip sent the message that Afghanistan is "so unstable the U.S. President is afraid to be there during daylight hours." Huh?
Peters is a well-known conservative hawk on military issues, and has been very consistent in his opposition to the foriegn policy of the Obama Administration. To be fair, later in the clip he does admit that the war in Afghanistan is getting much better, specifically citing sources that tell him that the Taliban and al Qaeda appear to no longer be working in consort. So while the White House is to be blamed for the night time travel arrangements, the actual battlefield in that particular theater should give Americans reason to be pleased.
Video of the clip is below with partial transcript to follow:
Bill O'Reilly: So let's take the President's Afghanistan trip first. You know, I said it was a good thing. You want to show the troops that you are engaged with them and this terrible conflict and he did that. What say you?

Ralph Peters: Well, I'm glad the Commander-in-Chief finally found a couple minutes for our war. But, Bill, nobody in the White House was thinking. Now, whatever modus the President may have had by arriving after dusk and leaving just after midnight, spending six hours in Afghanistan during the night, the message he sent to our enemies, to our allies and to everybody in the region was Afghanistan is so unstable the U.S. President is afraid to be there during daylight hours. Point one. Point two, come on. Six hours, including two hours of Karzai, quick dinner at the Presidential palace, 20 minute photo op. with our troops at the safest base in Afghanistan. Couldn't he spare one full day for General McChrystal and to see what our troops are actually doing?

Bill: All right. So you thought he should spend more time and basically show that he is not afraid — America is not afraid of the Taliban by arriving. All right. People can make up their own mind.
Have a tip we should know? tips@mediaite.com
Colby Hall - Founding Editor