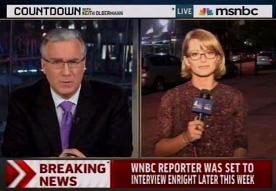 In the disturbing story of the filmmaker just back from filming Marines in Afghanistan who stabbed the Muslim NYC cab driver, one WNBC reporter had a unique angle to the story.
It was so unique, she told her story on MSNBC's Countdown as well. Some on Twitter (and in our tip box) thought who it was was more important than what was said – Katy Tur.
Tur, a WNBC reporter who previously worked at NBCU's Weather Channel was Keith Olbermann's longtime girlfriend last May when she got the Weather Channel job. We can confirm they broke up more than a year ago, however. When Olbermann closed out the interview, he thanked his "dear friend" Tur.
Tur was on Countdown to describe a report she had been working on for WNBC. She had talked to the 21-year-old Michael Enright charged with attempted murder – five times recently, as he was trying to get publicity for the film he was working on. "The first time I spoke to this guy, I was struck by how incredibly polite he was," said Tur. "He was, 'Yes ma'am, no ma'am.' Very polite on the phone. He wanted to get a point across about how he feels that soldiers really aren't getting enough attention back in the United States."
She also said she got an email recently from Enright after a story she reported on the Park51 Islamic Center. "I got an email from Mr. Enright, 'Hey I really appreciate your story on the Mosque, I think you did a good job," said Tur.
Here's the full segment (the Tur interview comes around the 4:30 mark):


—–
» Follow Steve Krakauer on Twitter
Have a tip we should know? [email protected]