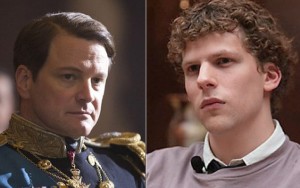 For months it seemed as if The Social Network was the odds on favorite to win an Oscar for Best Picture this year. The buzz was great, Facebook is the meme of the moment and ticket sales were staggering. Then, something changed. Now it's a horse race with The King's Speech now neck in neck with The Social Network to nab this years biggest prize in filmmaking.
How did that happen, and why?
Critically the film was a smash.
Film review site Rotten Tomatoes says: "Impeccably scripted, beautifully directed, and filled with fine performances, The Social Network is a riveting, ambitious example of modern filmmaking at its finest."
Which is to say – it's a good story. But, is it true?
Many of the people who went to see The Social Network found themselves entertained, and then wondering just how accurate it was.
Dustin Moskovitz one of Facebooks co-founders, called the film a "dramatization of history … it is interesting to see my past rewritten in a way that emphasizes things that didn't matter."
Blogger Jeff Jarvis called the film "well-crafted" but labeled it "the anti-social movie" blasting it as "the story that those who resist the change society is undergoing want to see."
Harvard Law School professor Lawrence Lessig blasted the film for ignoring what he called the real villain, the American legal system. Said Lessig: "did Zuckerberg breach his contract? Maybe, for which the damages are more like $650, not $65 million. Did he steal a trade secret? Absolutely not. The code for Facebook was his, and the "idea" of a social network is not a patent."
David Kirkpatrick, author of The Facebook Effect – posted on The Daily Beast "What's True About the Facebook Movie" may have underlined what was bothering moviegoers and Academy Members most.
It would be easy to write off The Social Network as a guilty pleasure and a terrific piece of scriptwriting by Aaron Sorkin. The problem is that Facebook is an important and growing piece of our society's digital eco-system, and the story of it's founding and the motivations of its founders are, in fact, important.
Imagine if the first and most widely viewed historic biography of Abraham Lincoln were the cult hit "Hard Drinking Lincoln." No doubt historians and teachers would want to replace the profane and fictional animation with a more accurate portrayal.
So, as the film critics' praise of The Social Network fades, and the film's central characters and biographers stand up and collectively begin to label the film as little more than Hollywood nonsense, it's reasonable to imagine Academy voters enthusiasm cooling for the picture.
Then, along comes The King's Speech. A period film that could easily have been ignored at the box office takes flight, in part because it turns historic events into a riveting story (much as Social Network attempted to do). And, there's no doubt that there are historical nips and tucks – as outlined by Andrew Roberts in The Daily Beast. But two things set The King's Speech apart from The Social Network.
First, The King's Speech has a message – that we can face and overcome our demons and rise above them. That story, brilliantly played by Colin Firth, resonates with audience of all shapes and sizes.
Second, while there may be a historical detail missed or change, The King's Speech is fundamentally a true story. King George VI did have a speech impediment. Lionel Logue was his Australian born speech therapist. And their relationship, and friendship, is widely agreed to be accurately portrayed.
There's no doubt that artists take liberties with the world, as they create their work. But to what end? Were the changes, omissions, and inaccuracies of The Social Network simply dramatic flourishes and sloppy fact checking? Or as some seem to suggest – an editorially delivered character assassination of both Mark Zuckerberg and the very founding principals of Facebook?
As we look toward February 27th, and the 83rd Annual Academy Awards – it's worth thinking about what it means to have popular films hijack and re-write history.
It seems like audiences and critics both prefer their history with at least an attempt to tell both the facts and the drama, rather than construct them to serve a fictional narrative.
Steve Rosenbaum is the CEO of the video platform Magnify a former magician, and an innovator in the new media space.
Have a tip we should know? tips@mediaite.com