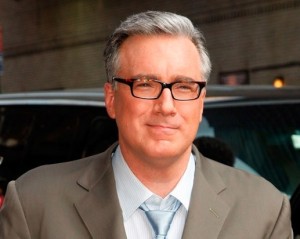 The NY Post's Andrea Peyser offers an interesting explanation for Keith Olbermann's departure from MSNBC that has not been heard since he left 10 days ago: she blames Ben Affleck. As we've outlined before, there seems to have been numerous factors at play in the split between MSNBC and the firebrand host, but to air out a litany of allegations and somehow link them back to his dismissal from MSNBC seems to be entirely unfair.
Pesyer wrote:
In the end, it wasn't Keith Olbermann's wacko politics, bipolar tantrums, or the Comcast takeover that set his MSNBC career on a collision course with an iceberg.

It was Ben Affleck.

A source formerly with the cable network said the end began in April 2009, when Rachel Maddow booked Hollywood's darling to appear on her show. Olbermann wanted the star for himself on "Countdown."

It was the first battle Keith didn't win.

"In protest, he refused to go on the air," said the ex-colleague.

It wasn't his first meltdown. A year and a half earlier, MSNBC had moved studios from the Jersey boonies to Rockefeller Center. When Olbermann discovered that his new office door had a built-in window, he went ballistic, phoning network President Phil Griffin and threatening to walk.
It bears noting that the NY Post, like Fox News, is owned by Rupert Murdoch's News Corp., the media entity often targeted by Mr. Olbermann, and Peyser's critique seems unnecessarily gratuitous.
Much has been reported about Olbermann's disappearance from the airwaves that followed the Affleck booking, and other instances where Olbermann refused to appear on-air when he became upset at some trivial matter. But to suggest a cause and effect between that incident nearly two years ago, and Olbermann's ouster today seems like a long shot at best.
Peyser, who is respected for her candid and sometimes politically incorrect commentary, doesn't end there. She goes on to dredge up past incidents about Olbermann at previous work places which seem to have little connection to his current split with MSNBC. Yes, Olbermann may have left ESPN and Fox Sports under duress as Peyser suggests, but the amplification of old grievances presented in her case makes her overall argument about the split from MSNBC seem somehow weaker. To wit:
Tales of Olbermann's unhinged behavior go back almost to the beginning of his career. In the '90s, he anchored ESPN's "SportsCenter." "He didn't play so nicely in the sandbox," said an ESPN source.

"He was condescending to those who didn't see things his way. What recently happened was a blast from the past, as far as we're concerned."

After a female ESPNer wrote a book, "one day," said the source, "Keith counted how many swear words were in it." He sent the results to the entire newsroom. "Why? To embarrass her? To draw attention to himself? It did not add to the workplace."

In 2004 — seven years after he left — Olbermann was the only on-air personality excluded from SportsCenter's 25th-anniversary reunion week.
No question Olbermann has had regular problems with colleagues, underlings and management, and all of that certainly contributed to his ouster from MSNBC, but to blame the Ben Affleck interview seems unfair.
Keith Olbermann's departure from MSNBC was a result of a complex set of circumstances that came together at an opportune time. MSNBC and NBC News might be relieved to be rid of Olbermann particularly under new ownership, but that doesn't justify an oversimplification of the facts at hand.
Have a tip we should know? tips@mediaite.com