Kirby Delauter Apologizes to Paper He Threatened for Printing His Name, Kirby Delauter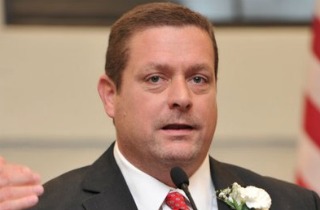 Kirby Delauter, the Maryland council member who threatened the Frederick News-Post and its reporter Bethany Rodgers for using his name––Kirby Delauter––has now apologized to that very paper.
Just to recap, Delauter was upset at Rodgers for the mere act of printing his name in a news report, because apparently you need someone's permission to write their name down. The News-Post shot back with an editorial that doubled as one of the greatest works of trolling ever.
So yesterday, Delauter apologized in a statement to… the News-Post. You can read his full apology here:
"The first amendment is alive and well in Frederick County. As a public figure working to maintain and improve the county, it can be very frustrating to feel misrepresented or misinterpreted by a local media outlet.

"Over my career I have fired off my fair share of angry e-mails, which in hindsight I wish I hadn't. I can't think of one that had a positive effect. Usually, they only served to escalate the conflict. I thought I had long ago learned the lesson of waiting 24 hours before I hit the send key, but apparently I didn't learn that lesson as well as I should have.

"Of course, as I am an elected official, the Frederick News-Post has the right to use my name in any article related to the running of the county — that comes with the job. So yes, my statement to the Frederick News-Post regarding the use of my name was wrong and inappropriate. I'm not afraid to admit when I'm wrong.

"I got elected to serve all the citizens of northern Frederick County, Democrats as well as Republicans. I look forward to the local papers covering my effort in that regard."
But we'll always have the Kirby Delauter… I mean memories.
[h/t NPR]
[image of Kirby Delauter via Kirby Delauter]
— —
Follow Josh Feldman on Twitter: @feldmaniac
Have a tip we should know? tips@mediaite.com
Josh Feldman - Senior Editor