NYPD Furious Mayor's Wife Wore Jeans to Cop's Funeral; Except She Really Didn't
Today, Chirlane McCray and City Hall were forced into the unusual situation of having to defend a pantsuit.
During the funeral of Officer Wenjian Liu, who was shot along with another cop by a mentally ill gunman, observers noticed that McCray, the wife of embattled New York City Mayor Bill de Blasio, was wearing pants that looked like artfully faded denim jeans. And given that the NYPD blamed de Blasio's statements about cops unfairly targeting black men for causing the Liu's death, this did not go over well. So they turned into the fashion police.
"We found it disrespectful," a Queens cop told the New York Daily News, saying that the image was making the rounds among the NYPD.
It also made the rounds of the internet, prompting responses like this:
@PuzzleFactory22 @Chirlane @southpaw817 #FoxNews #NoRespect #buyhersomeclothes #disgrace #CopsLivesMatter #CNN pic.twitter.com/Ez53HXP4ni

— #copslivesmatter (@Car4997) January 5, 2015
And, from that one image alone, they really do look like jeans. However, the Daily News reached out to Anni Kuan, one of McCray's favorite designers, who explained that it was really just a polyester-rayon blend that happened to look like jeans. ""It's a very respectful suit you would wear to an important gathering," Kuan said. "It's not made of jean at all."
It looks like this, via AnniKuan.com: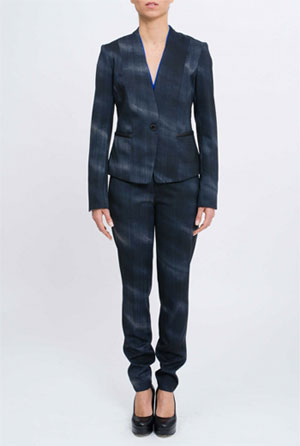 Because we all know from Michelle Obama experience that people obsess over how much liberals spend on clothing, here's how much it cost:
The outfit — which City Hall confirmed is the one McCray wore to the funeral — is part of her Fall/Winter 2014 collection. The single-button, gabardine blazer is on Kuan's website for $316, marked down from $395. And the trendy "zip front ankle pants" — which resemble scrunched up jeans in the photos of McCray at the funeral — are also on sale, down from $205 to $164.
So yes, McCray wasn't wearing jeans, and City Hall would like the NYPD to stop kvetching about it, please. "The dark pantsuit the First Lady wore to Detective Liu's funeral was somber and appropriate," a de Blasio spokeswoman said. "We should be talking about Detective Liu and his family, not fabric and fashion."
[h/t Jezebel]
[Image via @PuzzleFactory22/Twitter]
—
>> Follow Tina Nguyen (@Tina_Nguyen) on Twitter
Have a tip we should know? tips@mediaite.com