LA Mayor Mocked For Posting AWESOME Vid of Exploding Watermelon to Warn Against Fireworks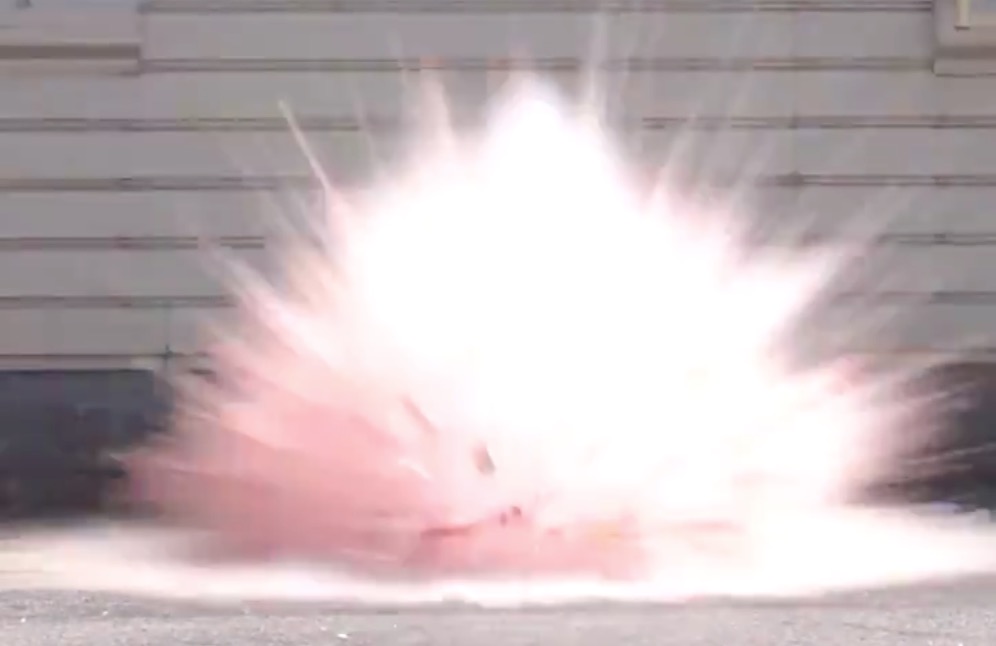 It's almost the Fourth of July — so for the next 36 hours, the American public is bound to see a lot of PSAs on how to stay safe while watching or setting up a fireworks display. Los Angeles Mayor Eric Garcetti is doing his part to encourage people to take precautions — though his efforts might've…well…backfired.
For the last few days, Garcetti has been working with the LAPD to remind local residents that fireworks are illegal in the city and should be left up to the pros.
A message from Mayor Eric Garcetti on the dangers of fireworks, and to remind all Angelenos that fireworks are illegal in the City of Los Angeles. https://t.co/ZfEBjfTcNx

— LAPD Transit Services Division (@LAPDTransit) June 21, 2018
In his PSA, Garcetti sets off a small firework (roughly the size of a stick of gum) inside of a watermelon. The resulting video is as awesome as you'd expect:
#Fireworks are illegal in the City of Los Angeles and even small ones can cause a lot of damage.

This watermelon was completely destroyed by a firework the size of a stick of gum.

? This #FourthOfJuly be safe, find a professional show near you: https://t.co/gow9utbD5K pic.twitter.com/KHqrJZDVba

— Mayor Eric Garcetti (@MayorOfLA) July 2, 2018
Unfortunately, despite Garcetti's good intentions, it seems his safety warnings could fall on deaf ears. If the Twitter reactions to his video are any indication, people aren't thinking about proper safety measures because they're too distracted by the exploding watermelon:
Black market fireworks sales just doubled in LA – watermelons will sell out https://t.co/Y8NSTQCNa5

— Yashar Ali ? (@yashar) July 3, 2018
I don't think this picture has the deterrent effect the Mayor is hoping for. Who knew blowing up a watermelon could be so much fun? https://t.co/on9HfChV9s

— Walter Russell Mead (@wrmead) July 3, 2018
Until 2 hours ago I had never contemplated the possibility of blowing up a watermelon with fireworks. It's now all I can think about.

— Casey Mattox (@CaseyMattox_) July 3, 2018
You idiot, you just made fireworks seem even cooler than they already are. https://t.co/mgZHV5lx8Q

— Jeff B. (@EsotericCD) July 3, 2018
Hope you get a better social media manager before Iowa!

— Romina (@rominarosado) July 3, 2018
This video is causing a huge run on watermelons, at supermarkets and fruit stands across the nation, to blow up tomorrow. https://t.co/w4YqWkKJap

— Bill Kristol (@BillKristol) July 3, 2018
Friendly advice: if you want to convince Americans not to use fireworks over the 4th of July, don't use an awesome video of fireworks blowing up a watermelon to make your point. https://t.co/hAF520JMco

— James Hasson (@JamesHasson20) July 3, 2018
I don't think you're sending the message you think you're sending. https://t.co/ihkL8TKScl

— Jim Treacher (@jtLOL) July 3, 2018
Watch above.
[Image via screengrab]
— —
>> Follow Ken Meyer (@KenMeyer91) on Twitter
Have a tip we should know? tips@mediaite.com