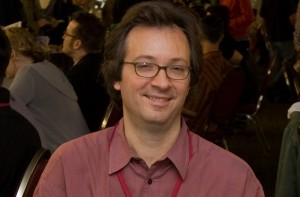 The Los Angeles Times dropped freelance cartoonist Ted Rall Tuesday after they discovered he allegedly lied about the details of an abusive interaction with the Los Angeles Police Department.
Rall, known for his iconic style and stridently liberal views, wrote a May 11 post on the LA Times' OpinionLA blog alleging that he was once stopped, handcuffed, and roughed up by an LAPD office in front of a dozen bystanders. "Another motorcycle officer appeared, asked the colleague what the heck he was thinking and ordered him to let me go, which he did. But not before he threw my driver's license into the sewer," Rall wrote.
But now Rall's op-ed piece has a giant editor's note at the top added by the Times:
In a May 11 post on The Times' OpinionLA blog, Ted Rall — a freelance cartoonist whose work appears regularly in The Times — described an incident in which he was stopped for jaywalking on Melrose Avenue in 2001. Rall said he was thrown up against a wall, handcuffed and roughed up by an LAPD motorcycle policeman who also threw his driver's license into the sewer. Rall also wrote that dozens of onlookers shouted in protest at the officer's conduct.

Since then, the Los Angeles Police Department has provided records about the incident, including a complaint Rall filed at the time. An audiotape of the encounter recorded by the police officer does not back up Rall's assertions; it gives no indication that there was physical violence of any sort by the policeman or that Rall's license was thrown into the sewer or that he was handcuffed. Nor is there any evidence on the recording of a crowd of shouting onlookers.

In Rall's initial complaint to the LAPD, he describes the incident without mentioning any physical violence or handcuffing but says that the police officer was "belligerent and hostile" and that he threw Rall's license into the "gutter." The tape depicts a polite interaction.

In addition, Rall wrote in his blog post that the LAPD dismissed his complaint without ever contacting him. Department records show that internal affairs investigators made repeated attempts to contact Rall, without success.
"Based on this, the piece should not have been published," the editor's note concludes. "Rall's future work will not appear in The Times." Of course, maybe that decision should have been made back in 2004 when he wrote a cartoon mocking the widows of 9/11 victims, or in 2007 when he said the soldiers killed in Iraq boosted the average IQ.
UPDATE — Monday, Aug. 3, 2015, 10:10 a.m. ET: Rall posted another blog post with updated audio from the incident, which he claims contradicts what the Times says about his own claims. See here.
[Image via Wikipedia Commons/Joshin Yamada]
——
>>Follow Alex Griswold (@HashtagGriswold) on Twitter
Have a tip we should know? [email protected]