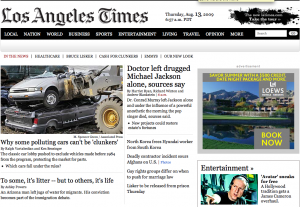 With the launch of a redesign yesterday, visitors to the Los Angeles Times online will find a more dynamic and attractive page, but nothing unique or eye-grabbing. Very little risk-taking here.
"We're bringing you a site that's easier to read and use and that better showcases the world-class journalism our newsroom produces around the clock," wrote online managing editor Meredith Artley and editor Russ Stanton in a note to readers online.
The new site is not so much an avant-garde reimagining of how newspapers should appear on the Web as a much-needed and classy update. The new LATimes.com is designed to better feature multimedia content and facilitate interaction with the news, the result of what Artley and Stanton call a "modular approach." The redesigned page should also be more pleasant to read: the site now uses a larger, seriffed font (Georgia, instead of Arial), and video content is supposed to load faster.
As far as multimedia content goes, the new site features the usual array of slideshows and clickable maps, but nothing that will entice readers to spend more time on the site or go there to get their news first; and nothing like the multimedia content that Jim Gaines is imagining and executing at Flyp.
The new site should also be more attractive to advertisers. "This new platform enables increased innovation and creativity, while also delivering larger and more flexible ad units 'above the fold,'" said VP of digital sales Juliana Jaoudi in a press release.
In short, advertisers will be able to choose the size of ad they purchase at the top of the homepage instead of being constrained by an overly rigid template. At the same time, Artley and Stanton promised that the reading experience has been streamlined, making it easier to read articles on the site "without interruption from related content or advertising."
The Wrap's Dylan Stableford sees a little bit of New York magazine in the new site: "The design seems to have more in common with New York magazine's award-winning Web site than the Grey Lady's." We don't see much resemblance to NY mag but maybe a passing likeness to the new NPR, especially further down the page where section previews are neatly tucked together with plenty of white space and pictures.
All in all, the new LATimes.com is a resounding improvement over the old, but not a daring leap into the new and unexplored by any stretch.
Tour the new site here.
Have a tip we should know? tips@mediaite.com