Larry King Is Really Happy He Doesn't Have to Report 'Absurd' Missing Plane Story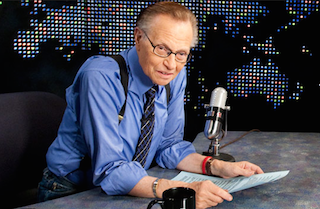 Sometimes it seems like Larry King has spent most of his time since leaving CNN saying nasty things about CNN. He criticized Piers Morgan for making his show "too much about him." He said that unlike Fox and MSNBC the network doesn't have any "appointment viewing." And most recently, he's started trashing CNN's "abysmal" coverage of the missing Malaysia Airlines plane.
King was at it again this week, telling Capital New York's Alex Weprin how happy he is that he no longer working for the network.
"I miss being live, which I did all my life, and I miss the big story, though I will tell you, I am glad I am not at CNN now with this missing plane," King, who now hosts online shows for Ora.tv and Hulu. "Because that has been turned into the most absurd news story. It was a great news story and then it went absurd."
King elaborated on the problem with CNN's all-in dedication to this one story:
"The problem is that, as they now face, with anybody covering a news story, if they call a news conference in Kuala Lampur, they have to cover it, because they are committed to it. But now it is absurd, you know? 'Breaking Supposition.'

The funny thing about it is that in all this time, which I guess is approaching six weeks, the only thing we know is that it made a left turn. We don't know anything else, so I have learned nothing, and all that coverage has led to nothing. So while it gave them better ratings, they weren't doing what I consider great news work, which is letting the audience determine what is news. In that same period of time they had landslides in Washington, they had the ferry boat in South Korea, they had Ukraine, they had the G.M. recall with 13 people killed, and they are leading with the missing plane."
As for Jeff Zucker, who recently declared the death of the prime-time talk show format, King quipped, "Well, he also said that Jay Leno would work at 10 o'clock."
Read the full interview with King at capitalnewyork.com.
[Photo via CNN]
— —
>> Follow Matt Wilstein (@TheMattWilstein) on Twitter
Have a tip we should know? tips@mediaite.com