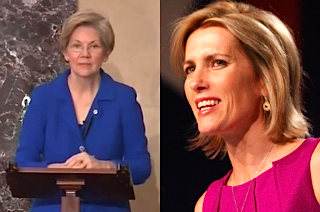 Sen. Elizabeth Warren (D-MA) made waves in the Senate on Friday by delivering an impassioned speech against a provision of the massive $1.1 trillion spending bill that would rollback part of the Dodd-Frank financial reform legislation. Her populist message struck a nerve with conservative radio host Laura Ingraham, who gave the senator some unexpected praise on her show.
"If you're a Democrat, you have to think that she played this really smartly," Ingraham told her listeners. "She did the smart thing in opposing this. And it gives her the opportunity to frame the issue according to a more liberal, populist, focus on the little guy approach, which is very attractive going into 2016."
Ingraham looked at what some possible Republican presidential candidates are supporting, including trade deals with China, "big omnibus bills" like the one that passed the House and will face a vote in the Senate Monday, and did not see how they could sell those positions to conservative voters.
"Elizabeth Warren, meanwhile, can say, 'I fought against the big banks,'" Ingraham continued, echoing the Democratic senator's primary arguments. "I mean, what position would you rather be in? Warren's position or, like, Paul Ryan's position? Mr. budget hawk!"
"We have to work out our understanding of what true conservatism is," Ingraham added, making it seem like some on the right might prefer Warren to Ryan in 2016.
Listen to audio below, via The Laura Ingraham Show:
And you can watch Warren's full speech from the Senate floor below, via C-SPAN:
[Photo via screengrab]
— —
>> Follow Matt Wilstein (@TheMattWilstein) on Twitter
Have a tip we should know? tips@mediaite.com