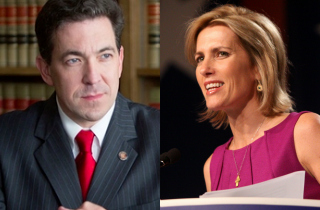 Conservative radio host Laura Ingraham was instrumental in getting the relatively unknown Dave Brat to effectively unseat House Majority Leader Eric Cantor (R-VA) last week. Now, she's lending her vocal support to another Tea Party-aligned challenger from Mississippi, Republican Senate candidate Chris McDaniel.
On her radio show Tuesday, Ingraham joked that since Cantor is in need of a new job, he might as well go work for incumbent Senator Thad Cochran (R-MS). "They are both perfectly aligned on the issues and perfectly out to lunch when it comes to the obvious," she said.
Cochran, who faces the same fate as Cantor next Tuesday, told Fox News that he was unaware of the major upset in the Virginia House race the day after it happened. "This is who Haley Barbour thinks should be representing Mississippi?" Ingraham asked of the state's former governor.
RELATED: Cantor: Ingraham Saying I Should Be Traded to Taliban 'Cheapens the Debate'
While she said Cochran is a "genuinely nice man," she thinks that the "poor man" needs to "just go off and do something else — live out the rest of his years enjoying himself." Ingraham started wondering aloud whether Cochran even knows that the Civil War is over.
When Cochran ultimately loses his primary campaign, Ingraham predicted reporters would ask him if he expected to lose and his only answer will be "I haven't really been following that race."
Listen to audio below, via The Laura Ingraham Show:
[Photos via Chris McDaniel/Wikimedia Commons]
— —
>> Follow Matt Wilstein (@TheMattWilstein) on Twitter
Have a tip we should know? tips@mediaite.com