Law Professor Testifies: Obama Has Brought America to 'Constitutional Tipping Point'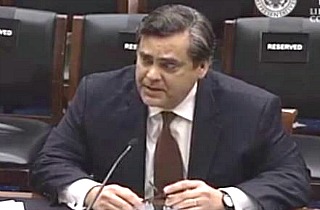 On Wednesday, George Washington University Law School professor Jonathan Turley testified before a congressional committee that he believed President Barack Obama has "exceeded his authority" as the nation's chief executive. He added that, in spite of the fact that he supports Obama's policy aims, he believes the president may be moving the country toward a "constitutional tipping point."

Turley said that it was his view "that the president has exceeded his authority in a way that is creating a destabilizing influence in a tripartite, or three-branch, system."
He said that Obama has exacerbated a problem that began with George W. Bush, of whom Turley said he was also critical. "But the rate at which executive power is being concentrated in our system is accelerating," Turley testified. "And, frankly, I am very alarmed by the implications of that aggregation of power."
Turley said he was equally "alarmed" by the fact that both the legislative and judicial branches of government appear unable or unwilling to exercise their authority in order to halt this concentration of power.
RELATED COLUMN: The Media's Outrageous Enabling of Obama's Lawlessness
Turley said that he believes Obama is correct in many of his policy proscriptions, but he also believes that the means he has chosen to effect those solutions are "wrong" and "dangerous."
"Our system is not supposed to change," Turley said. "In our system, there is no license to go it alone." He also dismissed the notion expressed by some that the present political environment justifies extra-constitutional action.
"I believe we are now at a constitutional tipping point in our system," he concluded. "It's a dangerous point for our system to be in, and I believe that your response has to begin before this president leaves office."
Watch the clip below via The Library of Congress:
h/t WFB
[Photo via screen grab ]
— —
> >Follow Noah Rothman (@NoahCRothman) on Twitter
Have a tip we should know? tips@mediaite.com