Leaked Emails Suggest US State Department Approved of The Interview's Ending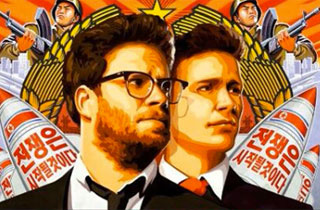 Leaked emails from Sony Entertainment CEO Michael Lynton reveal that he consulted with at least two officials from the US State Department on the controversial film The Interview, and that one of them gave his seal of approval on a scene featuring the death of North Korean dictator Kim Jong-Un.
The emails between Lynton and the film's official North Korea consultant, RAND Corporation's Bruce Bennett, were released as part of a "Christmas gift" from the Sony hackers and indicated that the State Department approved of the plot, detailing an attempt to assassinate Kim, in the hopes that it might sway North Koreans towards the creation of a new government. Bennett, in particular, lobbied extensively for an ending scene that depicted Kim's head graphically exploding — a scene which spooked Sony's Japanese executives, prompting them to push for a less gruesome ending for fear of antagonizing the DPRK.
The Daily Beast obtained the emails and discovered this exchange, emphasis ours:
[Bennett] added, "In fact, when I have briefed my book on 'preparing for the possibility of a North Korean collapse' [Sept 2013], I have been clear that the assassination of Kim Jong-Un is the most likely path to a collapse of the North Korean government. Thus while toning down the ending may reduce the North Korean response, I believe that a story that talks about the removal of the Kim family regime and the creation of a new government by the North Korean people (well, at least the elites) will start some real thinking in South Korea and, I believe, in the North once the DVD leaks into the North (which it almost certainly will). So from a personal perspective, I would personally prefer to leave the ending alone."
And Lynton responded with this email:
"Bruce – Spoke to someone very senior in State (confidentially)," wrote Lynton. "He agreed with everything you have been saying. Everything. I will fill you in when we speak."
In another email, Bennett said that he'd spoken to Ambassador Robert King, U.S. special envoy for North Korean human-rights issues, after North Korea issued their first threat against The Interview:
"Michael, 
I talked with Amb. King a few minutes ago," wrote Bennett. "Their office has apparently decided that this is typical North Korean bullying, likely without follow-up, but you never know with North Korea. Thus, he did not appear worried and clearly wanted to leave any decisions up to Sony."
After the hackers threatened to attack movie theaters which screened the Seth Rogen/James Franco comedy, multiple cinema chains decided not to show it, leading Sony to cancel The Interview's release entirely.
North Korea officially denied responsibility for the hacking, but applauded the attack as "a righteous deed of the supporters and sympathizers with the DPRK" against the so-called — or, maybe, outright — American propaganda.
[The Daily Beast]
[Image via Sony]
—
>> Follow Tina Nguyen (@Tina_Nguyen) on Twitter
Have a tip we should know? tips@mediaite.com