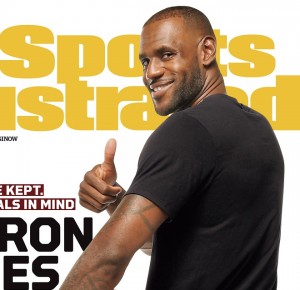 Newly-minted NBA Finals MVP LeBron James is the subject of a lengthy feature in this week's issue of Sports Illustrated, and is on the vaunted magazine's cover for the 25th time.
In the article, the now three-time NBA champion says he has become fixated on the guy who won six — Chicago Bulls legend Michael Jordan.
"My motivation…is this ghost I'm chasing," James said. "The ghost played in Chicago."
James elaborated:
My career is totally different than Michael Jordan's…what I've gone through is totally different than what he went through. What he did was unbelievable, and I watched it unfold. I looked up to him so much. I think it's cool to put myself in position to be one of those great players, but if I can ever put myself in position to be the greatest player, that would be something extraordinary.
Incidentally, Jordan is one of only two athletes to have graced the SI cover more than James. MJ has appeared on the magazine's front page 50 times, while Muhammad Ali has been featured on 40 different occasions.
In the story, James also shares a text message he wrote to his Cleveland Cavaliers teammates after they fell behind the Golden State Warriors three games to one in the NBA Finals. The Cavs were given little chance to pull off the comeback, but James urged his teammates to keep the faith.
No matter how we got to this point, we're here now…We have to go to Golden State for Game 5 and we have to come home anyway. So why not come home and play a Game 6…Let it go, play hard, be focused, follow my lead, and I'll make sure you get home for a Game 6.
The article was written by Lee Jenkins, who broke the news of LeBron's return to Cleveland last summer. Read the full story here.
[image via Sports Illustrated]
—
Follow Joe DePaolo (@joe_depaolo) on Twitter
Have a tip we should know? tips@mediaite.com
Joe DePaolo - Senior Editor