Lee Greenwood, Performing at Inauguration, Says Artists Skipping Are Making 'Mistake'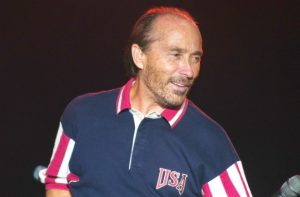 Lee Greenwood is one of a few performers who will be at Donald Trump's inauguration, and he has a few thoughts about the performers who have already bailed on the proceedings.
(The inaugural performers currently include Greenwood, 3 Doors Down, and Toby Keith.)
In an interview with The Hollywood Reporter, the man famous for "God Bless the USA" said that when you're asked to perform at such an important event, it would be in "bad taste" to decline. He said this is not supposed to be political, but a celebration of the peaceful transfer of power.
Jennifer Holliday was slated to perform too, but she withdrew after getting flak from fans. Greenwood had this to say in response:
I think that's a mistake. And, I think, sadly, that she would buckle under that kind of minority approach. Because it probably is. The nation spoke resoundingly to elect this President. For her to buckle under, to social media, again, she's thinking that's going to make an impact on her career. And it certainly won't.

You're going to sing for the President, my gosh. I didn't work the campaign, she didn't work the campaign. This is basically an invitation to go to Washington, D.C., and be a part of this celebration. I'm sorry she made that choice. It doesn't influence what I do or, I think, many of the other performers who will be there.
Greenwood has previously performed at inaugurals for Ronald Reagan, George H.W. Bush, and George W. Bush. Trump played "God Bless the USA" at some of his rallies last year.
[image via Andrew F. Kazmierski/Shutterstock]
— —
Follow Josh Feldman on Twitter: @feldmaniac
Have a tip we should know? tips@mediaite.com
Josh Feldman - Senior Editor