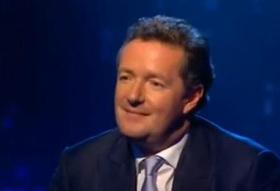 Simon Cowell says Piers Morgan will be a CNN host, and while CNN/U.S. President Jon Klein isn't talking about the possibility, no one at the network is outright disputing it either.
So if Piers Morgan does take over the 9pmET slot this fall when Larry King leaves, and I believe he will, let's take a look at what the CNN audience is in for.
Morgan is currently the host of the ITV show Life Stories in England. Around for more than a year, it consists of high profile, lengthy sit-down interviews with newsmakers and celebrities. Here's a prescient review of the show from February, which proclaims Morgan is "a bit of David Frost meets Oprah" (certainly high praise) and uses the lead, "Move over Larry King."
Without a doubt the show's biggest guest and most memorable moment came when Morgan sat down then Prime Minister Gordon Brown earlier this year. In the interview (you can see part 1 on the next page), Brown addresses tough questions about many issues both personal and political. Before the interview, he admits to being "quite nervous" and Morgan certainly doesn't shy away from hammering Brown with quotes and video montages of his missteps and harsh critiques.
But that wasn't it – no the takeaway was when Brown wept while describing the death of his daughter. "Gordon Brown wept in public this weekend when he talked of the death of his daughter Jennifer and spoke of facing up to the possible premature death of his son Fraser, who has cystic fibrosis – and his hope a cure will be found," wrote the Daily Mail. You can find more of the highlights here (Sample question: "Were you a big boozer?").
Imagine for a second if this happened in the American media – a two-and-a-half hour sit-down (edited down to one hour for broadcast) between the leader of the country and a top interviewer. No question was off limits, and no boundaries were raised. First of all, Pres. Barack Obama would likely never agree to it. But even if it was someone further down the chain of command, the result could be incredibly revealing. Imagine Morgan going toe-to-toe with Rahm Emanuel – I can guarantee it would produce a Mediaite post and some must-see TV.
It isn't just politicians though – he also sat down for a talk with Simon Cowell (video on next page), who, among other things, described his sexual prowess. It's an interesting and frank discussion – but it also opens the door to the other Piers Morgan. The guy who won Celebrity Apprentice and is a judge on America's Got Talent. The reporter who wrote a recent in depth account of spending a week with an up-and-coming singer in New York.. The journalist who interviewed Paris Hilton in bed in Las Vegas (for…something – video on page 2).
And of course, there's the photos that got him off the newspaper career and onto this path – publishing photos of British soldiers abusing an Iraqi that were proven to be fake. He was fired by the Daily Mirror in 2004.
Morgan is certainly a colorful character, and no one will accuse him of lobbing softballs (a complaint some have lodged against Larry King). But with a harder interview technique comes a harder booking process – say what you want about Larry King, but his guest list reads like a who's who of the Most Important People Of The Moment. But check out the videos on the next page and see for yourself – Morgan, the cool, smooth, playful interview who hits his subjects with uncomfortably probing questions while masking the awkwardness with a hefty amount of charm. Will it pay off in the ratings? It very well could – you're going to want to see what happens on a Morgan-hosted talk show. Is it 'CNN'? Maybe not, but you could probably make a fair case that CNN is no longer 'CNN'. It's a new era, and it may just be time to mix it up with a British import. It worked for reality TV.
NEXT PAGE: Watch clips of Morgan and Brown, Morgan and Cowell…and Morgan and Paris Hilton.
Have a tip we should know? tips@mediaite.com