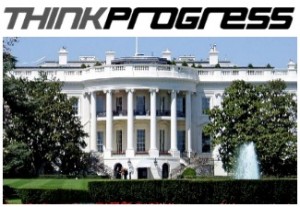 Zaid Jilani used to work for the Center for American Progress and wrote for its outlet blog ThinkProgress for a while, and in a post on his Tumblr page this week, he revealed that the White House started calling them to complain when they started being really critical of President Obama's policy on Afghanistan. Jilani said he was compelled to speak out after the news about RT this week and thinking about how it's not just the Kremlin-backed network where there's pressure to keep quiet about criticizing the foreign policy of the guys at the top.
Jilani acknowledges he didn't agree with a few of the policy issues the Center for American Progress was focused on, and he knew wouldn't be allowed to "write things too harshly critical of President Obama… or the Democratic Party, or CAP's corporate sponsors in the 'Business Alliance.'"
On Afghanistan, the Center for American Progress didn't protest Obama's surge, and so the ThinkProgress coverage was "simply neutral," until Democrats were "in open revolt" over Afghanistan and there was momentum for ThinkProgress to write critically about Obama's Afghanistan policy, including this post graphing exactly what the president's troop withdrawal would mean.
This did not go over well.
But then phone calls from the White House started pouring in, berating my bosses for being critical of Obama on this policy. Obama's advisor Ben Rhodes — speaking of a staffer who follows policy set by others for his career path — even made a post on the White House blog more or less attacking my chart by fudging the numbers and including both the Iraq and Afghan troop levels in a single chart to make it seem as if the surge never happened (the marvels of things you can do in Excel!).

Soon afterwards all of us ThinkProgress national security bloggers were called into a meeting with CAP senior staff and basically berated for opposing the Afghan war and creating daylight between us and Obama.
Jilani continues on to say "they viewed being closer to Obama and aligning with his policy as more important than demonstrating progressive principle." He cautions against being too "self-righteous" when it comes to "judging those who work at RT" when "you could argue RT America is more independent than some American networks."
UPDATE, March 9, 2014: Below is a response from the Judd Legum, Editor of ThinkProgress:
"This is an inaccurate portrayal of our editorial process both now and when Jilani left ThinkProgress more than two years ago. (He also inaccurately characterizes the policy position of CAP which advocated a troop surge in Afghanistan — along with a rapid draw-down in Iraq — long before Obama was President.) ThinkProgress is editorially independent and we regularly publish critical reporting of Republicans, Independents and Democrats, including the White House. Like any aggressive journalistic outlet, our work can generate controversy and debate. But we stand by our work and are guided simply by the facts and our progressive values."
— —
Editor's note – 03/09/14: This post has been edited since its original posting – Jon Nicosia, Mgr. Editor
— —
[h/t NewsBusters]
[photo via screengrab, Matt Wade]
— —
Follow Josh Feldman on Twitter: @feldmaniac
Have a tip we should know? tips@mediaite.com
Josh Feldman - Senior Editor