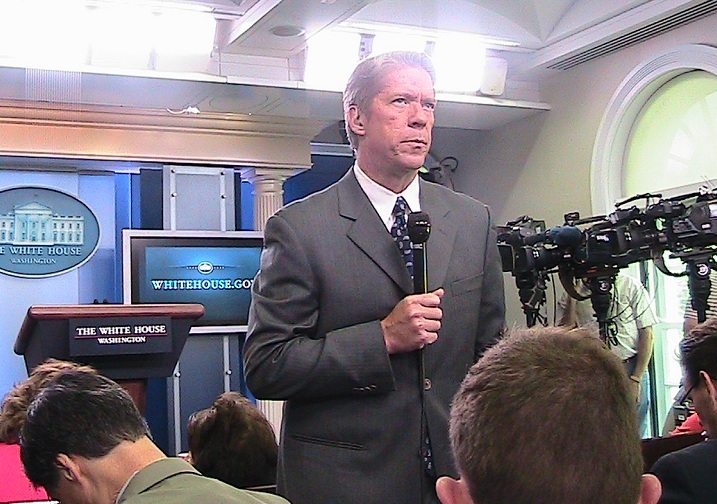 There are some liberals who are freaking out about Fox News' move to the front row of the Brady Briefing Room. Not helping matters was Bill O'Reilly's joking suggestion that he and Sean Hannity "hog-tie" Major Garrett and go tête-à-tête with Robert Gibbs themselves.
If it helps at all, I can personally vouch for the fact that nothing like this will ever happen. But even if it did, I don't think it'd be such a bad thing. I think it would go a little something like this:
After seeing that, I kinda wish Hannity, O'Reilly, and Glenn Beck would take turns in the front row. It's one thing to have a convincing debate with a chalkboard, but quite another to face a living, breathing Press Secretary.
The fact is, there are many legitimate criticisms to be made of Fox News' opinion shows, and the way they can influence the network's hard news coverage, but when it comes to their White House reporters, there isn't much there.
I've noted before that when Media Matters tried to make a case against Major Garrett, they could only manage a single (fairly weak) example. Since then, they've had another bite at the apple.
Media Matters has a WOPR-sized server archive that contains audio/video clips and research that dates back years, and after combing through all of that, here's what they came up with: unable to find anything about Major Garrett and Wendell Goler, they throw together an impressive array of links about Brian Kilmeade and the Fox News Sunday show.
What I really love, though, is the Reverend Wright/Bill Ayers-esque way they connect these links to Major Garrett:
…it's interesting that he makes the contention that Fox News "deserves" and is "entitled" to the seat during a conversation with Kilmeade about his guest-host stint for Chris Wallace on Fox News Sunday.
I can almost hear them exclaiming, "How could he sit in that studio for 20 years and listen to that…" Well, you get it.
Aside from the fact that a briefing room visit by Sean Hannity would be the best thing that ever happened to Media Matters, my fellow liberals needn't worry. Major Garrett and Wendell Goler aren't the 'droids you're looking for.
Have a tip we should know? tips@mediaite.com