Liberals Eat at P.F. Chang's, Conservatives at Cracker Barrel; And Other Fun Food Facts
Liberals Eat at Chipotle, Conservatives at Schlotzsky's; Where Do You Eat?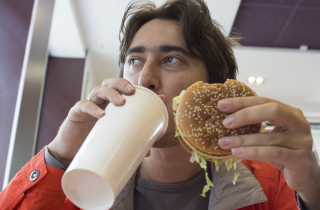 Can you tell someone's politics by which fast food restaurants they frequent? Or by which supermarkets they patronize? Experian Marketing Services conducted a rolling survey to determine whether there are any patterns in the politics of food customers.
The survey, flagged by The Wall Street Journal, scores fast food joints, restaurant chains, and supermarkets based on their customers' political preferences. A 100 indicates average politics while, say, an 80 score indicates 20% less conservative or liberal than average; and a 120 score indicates 20% more than average.
America's most ubiquitous retail food outlets came in politically neutral or even favoring "independents": McDonald's, Burger King, Applebee's, Chili's, Domino's, Krispy Kreme, among others.
But what stores have a customer base that clearly indexes one way or another? Results below in helpful graphic form:
The Most Conservative Chain Restaurants
There is obviously a bit of regional bias here. Overwhelmingly conservative restaurants like Cracker Barrel and O'Charley's are predominantly located in red states, and tend to be in more rural areas.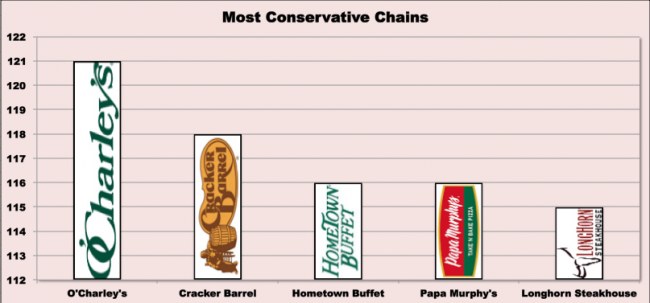 Interesting fact: Of the top five above, O'Charley's also had an above-average liberal index (108).
—
The Most Liberal Chain Restaurants
The five most liberal chain restaurants don't outwardly demonstrate a regional bias, but they do share a few common threads: They were all founded in major metropolitan regions, they tend to be a bit more "upscale," and are much more "ethnic" in cuisine than the big conservative chains: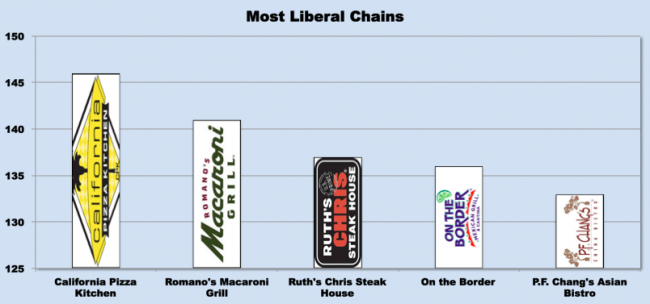 Also interesting to note that California Pizza Kitchen is the least conservative chain, indexing at just 75.
—
The Most Conservative Fast Food Joints
The regional factor is quite evident again when looking at conservative fast food restaurants. Krystal, Whataburger, Schlotzky's, and Steak 'n Shake are all predominantly found in the midwest and southern states. And Chick-Fil-A, well… that's an obvious one: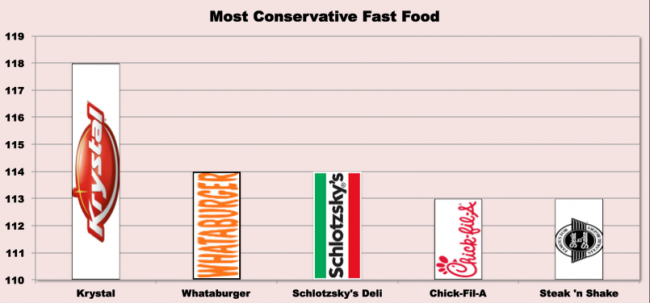 Not seen on this list was seafood joint Long John Silver's, which only came in as moderately conservative (104), but indexed very below-average for liberals (74).
—
The Most Liberal Fast Food Joints
Au Bon Pain came in as overwhelmingly liberal (182, the highest index of all businesses surveyed), and that's likely because of its concentration in the northeast (and it probably doesn't help to have a French title). And according to the WSJ, Chipotle and Qdoba are apparently telltale signs of the exurbs turning liberal. Blimpie is a somewhat surprising inclusion in the top five; but Starbucks surely is not: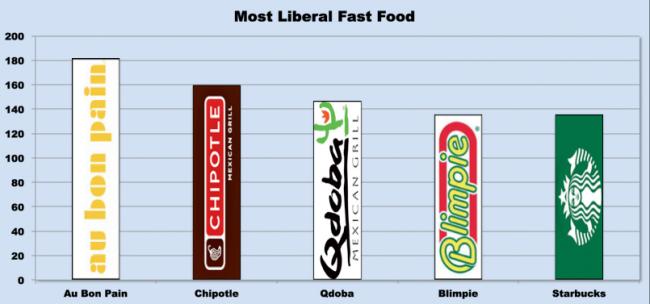 Au Bon Pain was the least conservative fast food establishment also, indexing at 74. Chipotle scored a conservative index of 75. Who knew burritos were a more liberal thing?
—
The Most Conservative Supermarkets
Supermarket chains tend to be regionally concentrated, so it's not surprise that there's an obvious geographical factor to which retail establishments conservatives tend to frequent. Randalls is big in Texas; Weis Markets has a big presence in rural Pennsylvania; Piggly Wiggly is almost inseparable from the south; and Brookshire is popular in Texarkana. Foodtown is an odd one to score highly with conservatives because of its mostly found in New York and New Jersey: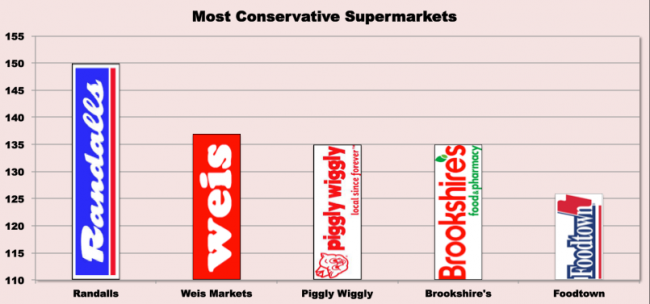 Piggly Wiggly is so deeply conservative, it scored only a 61 on the liberal index.
—
The Most Liberal Supermarkets
You'd be crazy not to have guessed this one. Whole Foods has become synonymous with so-called "liberal" values — the organic food, the gluten-free options, the highbrow food selection, the generally urban location. Trader Joe's is also largely associated with heavily blue areas like Washington, D.C., New York, and California.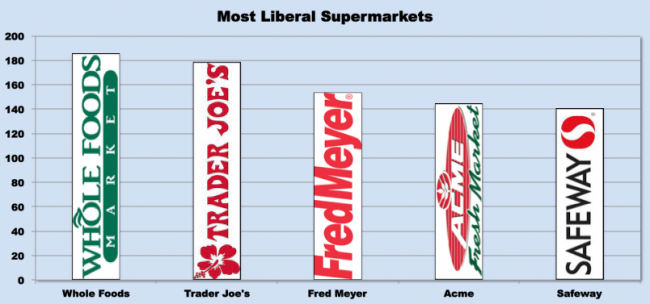 Unsurprisingly, Whole Foods scored just a 65 on the conservative index.
—
Read the full results, with sortable charts, over at the WSJ page.
[h/t Andrew Lundeen]
[Featured image via Shutterstock]
— —
>> Follow Andrew Kirell (@AndrewKirell) on Twitter
Have a tip we should know? tips@mediaite.com